National Day for Truth & Reconciliation Film Screenings
September 30, 2022 @ 1:30 pm

-

2:30 pm

Free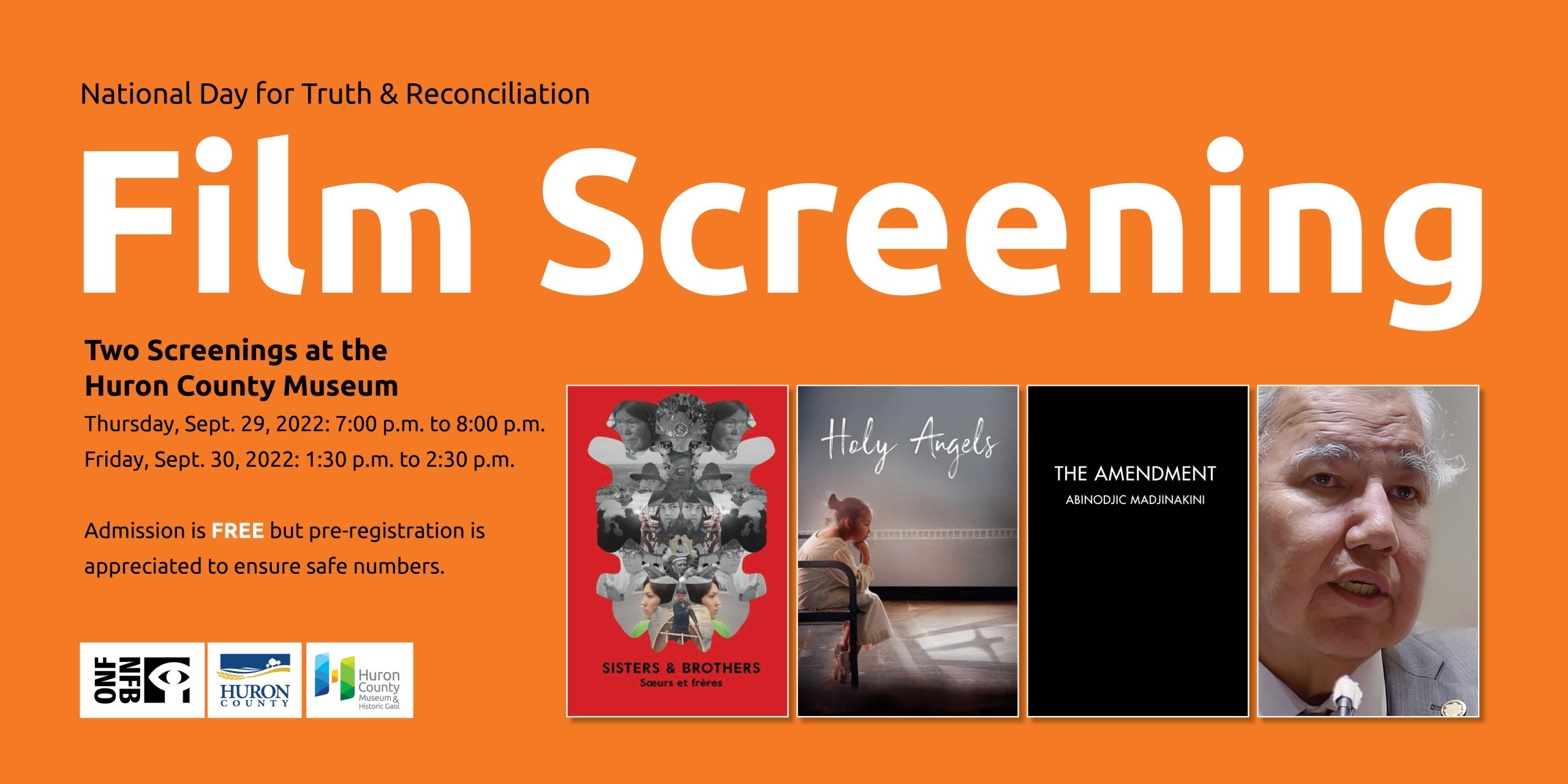 The Huron County Museum welcomes you to join us for a film screening event presented in recognition of National Day for Truth & Reconciliation and Orange Shirt Day.
This event is free and open to all members of the community. We kindly ask that you register so we can ensure safe numbers and send you any important updates. Pre-registration ends one hour before event. Walk-ins welcome as capacity allows.
To register for the Sept. 29 screenings, visit: https://www.eventbrite.ca/e/national-day-for-truth-reconciliation-film-screenings-tickets-424121036437
To register for the Sept. 30 screenings, visit: https://www.eventbrite.ca/e/national-day-for-truth-reconciliation-film-screenings-tickets-424127636177
The screening will include the following short films which have been chosen in collaboration with the National Film Board of Canada and Huron County Cultural Services.
Please be aware that the following films are recommended for age 14+ (NFB recommended 14+).  Content Warning: Many of the sites, films, and resources listed below include information about residential school experiences. If you require emotional support or assistance, we have compiled a list of supports which have been handed out before the screening. Please note, these are also posted just outside the theatre if you need them.
Sisters & Brothers | Kent Monkman | 3 min
In a pounding critique of Canada's colonial history, this short film draws parallels between the annihilation of the bison in the 1890s and the devastation inflicted on the Indigenous population by the residential school system.
Holy Angels | Jay Cardinal Villeneuve | 13 min
In 1963, Lena Wandering Spirit became one of the more than 150,000 Indigenous children who were removed from their families and sent to residential school. Jay Cardinal Villeneuve's short documentary Holy Angels powerfully recaptures Canada's colonialist history through impressionistic images and the fragmented language of a child. Villeneuve met Lena through his work as a videographer with the Truth and Reconciliation Commission. Filmed with a fierce determination to not only uncover history but move past it, Holy Angels speaks of the resilience of a people who have found ways of healing—and of coming home again.
The Amendment | Kevin Papatie | 2007 | 4 min
In the Kitcisakik community, the Algonquin language is dying out, just four generations after the federal government's assimilation policy came into effect.
Honour to Senator Murray Sinclair | Alanis Obomsawin | 2021 | 29 min
As the Chair of the Truth and Reconciliation Commission, Senator Murray Sinclair was a key figure in raising global awareness of the atrocities of Canada's residential school system. With determination, wisdom and kindness, Senator Sinclair remains steadfast in his belief that the path to actual reconciliation between Indigenous and non-Indigenous people requires understanding and accepting often difficult truths about Canada's past and present. Alanis Obomsawin shares the powerful speech the Senator gave when he accepted the WFM-Canada World Peace Award, interspersing the heartbreaking testimonies of former students imprisoned at residential schools. The honouring of Senator Sinclair reminds us to honour the lives and legacies of the tens of thousands of Indigenous children taken from their homes and cultures, and leaves us with a profound feeling of hope for a better future.
Related Events