The Ribbon Skirt Project: Creating & Gifting a Cultural Connection
March 12, 2022 @ 8:00 am

-

April 10, 2022 @ 5:00 pm

INCLUDED WITH: REGULAR ADMISSION/HURON COUNTY LIBRARY CARD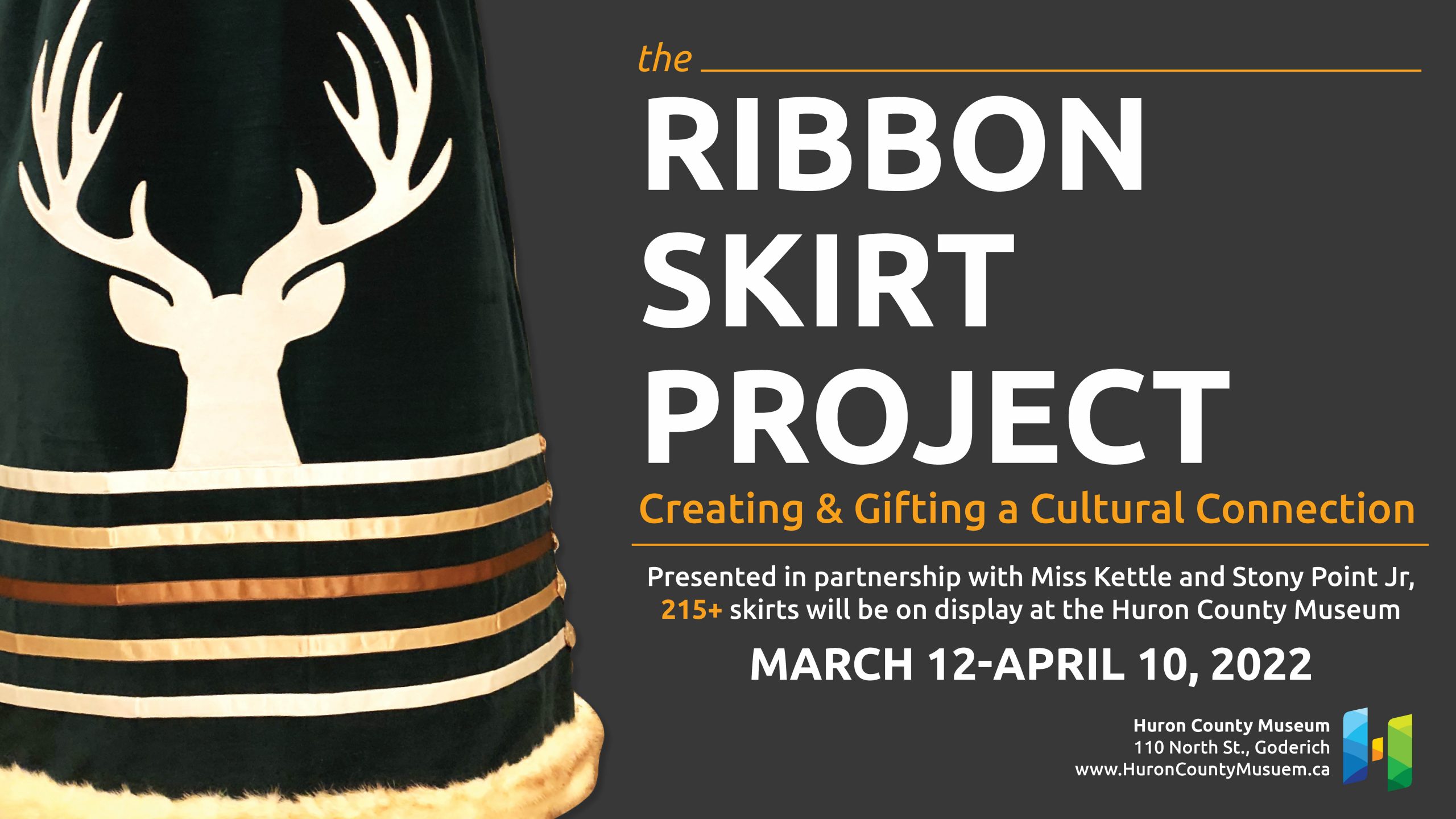 The Huron County Museum is very pleased to host The Ribbon Skirt Project: Creating & Gifting a Cultural Connection, a collection of more than 215 ribbon skirts which will be on display throughout the Museum from March 12-April 10, 2022.
What is a Ribbon Skirt?
A ribbon skirt is a piece of clothing that has been worn by many tribes across the Nation. The skirt has different meanings to different tribes and are worn for multiple reasons. The skirt gives a connection to Mother Earth and provides good energy as you walk upon Mother Earth. The Ribbon Skirt is worn with pride and honour showing the rich First Nation culture. They are worn at traditional ceremonies, celebrations, Round Dances and even day to day. For some First Nations, it is understood that the ribbon skirt is like her teepee. The teepee as the heart of the home where one is kept warm and loved. When the Ribbon Skirt is worn it is also an empowering reminder of who we are!
About the project
Knowing that owning a ribbon skirt was important, but difficult for many, Miss Kettle and Stony Point Jr, Jaylynn Wolfe, along with her mother, set out to make hundreds of ribbon skirt kits and invited volunteer seamstresses to help. The goal of the project was to create 215 skirts to represent the first number of unmarked graves identified in British Columbia at the Kamloops Indian Residential School. Once completed, each skirt would be gifted to a youth on her First Nation of Kettle and Stony Point. This project has been a huge success, with more than 215 Ribbon Skirts being gifted to the project from all over North America, including Nevada, Arizona, British Columbia and all over Ontario.
Before the collection of Ribbon Skirts journey to the youth of Kettle and Stony Point First Nation, they will be on display at the Huron County Museum where the public is invited to see this beautiful collection of work. The skirts will be displayed throughout the Museum in groupings  that showcase the Seven Grandfather Teachings, the many Clans of Kettle and Stony Point, Water is Life, Spirit Horses, The Creation Story, The Three Sisters, The Medicine Wheel, Floral imagery, and a stunning display to bring awareness to the Missing and Murdered Indigenous Women and Girls, a national tragedy that Miss Kettle and Stony Point Jr continues to be the voice for as so many have lost theirs.
Meet Miss Kettle and Stony Point Jr
The public is invited to drop in to the Museum to meet Jaylynn, who will be available to answer questions about the Ribbon Skirt Project. She will be onsite on Saturday, March 12, Sunday, March 20 and 27, and Sunday, April 3 and 10 from 1-4 p.m.
About Jaylynn Wolfe
Jaylynn is Ojibway from the Kettle and Stony Point First Nations, currently residing on the Saugeen Ojibway Nation. At 14-years-old, she is so proud of her native heritage and celebrates her heritage and shares her pride in so many positive ways. Jaylynn began dancing the Jingle Dress Dance when she was 7 years old and has shared her gift at events throughout the area. Her devotion to raising awareness for the Missing and Murdered Indigenous Women and Girls has reached throughout North America, with a self-portrait being displayed in an Art & Culture Exhibition in Montana. Through Jaylynn's latest project, The Ribbon Skirt Project with Miss Kettle and Stony Point Jr – Creating and Gifting a Cultural Connection, she hopes that a child will hold their gifted Ribbon Skirt so close to their heart that their connection to their culture will start their journey.