Quilt Raffle
1 ticket for $3 or 5 tickets for $10
"Barn Quilts on Display"
This queen sized quilt entitled Barn Quilts on Display was created by quilt artist, Marie Webster and quilted by Sarah Eveland.  The quilt was donated by the Goderich Quilters' Guild.  The design features Huron County barns colourfully adorned with barn quilts and farm animals.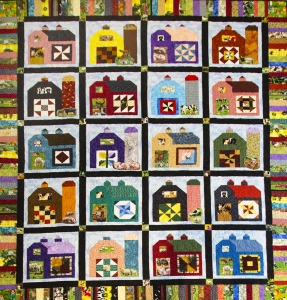 Tickets are available at:
Any Huron County Library branch
The Huron County Museum
Huron County Admin Office (located in the Courthouse in Goderich)
Cash only sales please
Proceeds from the quilt raffle to support the Huron Digitized Newspaper Project and the Goderich Quilters' Guild.
Queen Size Quilt / Prize value $1200 /  Lottery Licence #817413   /  2000 tickets printed
Quilt draw will be held at the Huron County Museum at the Annual Textile Show and Sale on Nov 2, 2019 at 2pm.