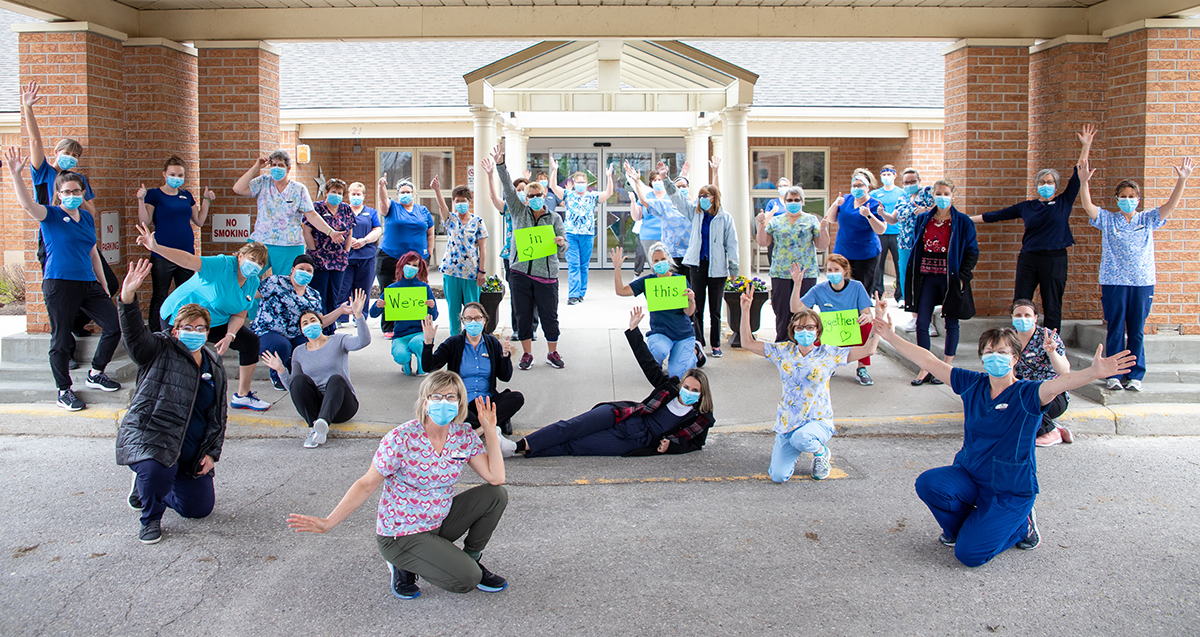 Photo: Staff at Huronview Home for the Aged in Clinton  "We're In This Together"
Collecting Memories for the future: COVID-19 Rapid Response Collecting
The Huron County Museum is looking for everyday personal accounts of the COVID-19 pandemic and how it is effecting the people and communities in Huron County.   How did an international event affect us in our own communities?
The collecting mandate for the Huron County Museum is to collect the stories and artifacts of our local area, with particular emphasis on items that were made by or used by Huron County people.   We are looking for your help to document and illustrate how Coronavirus has affected us close to home.  Your everyday is now our history.
The possibilities are endless.  Take a single photo or put together a full album of your COVID-19 life.  Write a journal or letter.  Make your own artwork.  Suggest items that should be collected from our communities after the pandemic lessens. Help us tell future people about the history of today. Your contributions will be kept at the Huron County Museum for future research and exhibition.
Contributions can be made through our social media, emailed to museum@huroncounty.ca with the subject line "Huron County Stories Now", or written/photographic items may be donated to the Museum by mail or in-person upon re-opening.
We understand that this is a difficult time for many, so participation is voluntary and has no timeline.  Items may come today, 2 months from now, or even years from now when people are ready to share.
If you have questions about Rapid Response Collecting by the Huron County Museum, please contact museum@huroncounty.ca.
For a message from our Senior Curator go to https://www.huroncountymuseum.ca/collecting-memories-for-the-future-covid-19/.
Inspiration for Children, or anyone young at heart:
The Things I Miss
Hey Kids! What activities do you miss? How have your favourite activities changed? Write about them or draw a picture.
School
Hey Kids! What is school like for you this year? Are you homeschooled? Are you using on-line learning? Are you going to your regular school?
· What does your classroom look like?
· How is school different?
· What is recess like?
· Do you ride the bus?
· What does school look like with the COVID-19 changes?
Life at Home
Hey Kids! How has your family adapted to life during COVID-19?
Celebrations
Hey Kids!  Tell us about a celebration that was different this year because of COVID-19.
I Miss You
Hey Kids! Draw a picture of someone that you miss seeing in person?  Tell us why you miss them?
Masks
Hey Kids! What does your favourite mask look like? How does it make you feel?
The Virus
Hey Kids! How does living in a world with COVID-19 make you feel?
When I Was Young
Hey Kids! Pretend it is 2070 (50 years from now). What would tell someone from the future about what it was like in 2020.
It Wasn't All Bad
Hey Kids! What has been the best part of 2020 for you? Is there one part of living with COVID-19 that you would like to keep or continue?
Inspiration and ideas to help you as you record history:
The World Around You
Look outside your door today at 8 am, noon, 5 pm or 7 pm.  What do you see, hear and smell?  Tell us what your neighbourhood looks like at today's date/time?   How is it different from this time last year?
Shop Local
Shop Local! How are you supporting local business in your community?  What is it like to shop at your local stores?
Signs of COVID-19
Are you going for a walk or shopping today?   Take a photo of a store or community sign detailing COVID-19 restrictions or procedures?
The Kids at Home
How are you keeping your children occupied while staying at home? Take a picture of what homeschooling looks like in your house or show us a picture of your child's school work.
A Walk Outside
Are you going for a walk today?   Take a photo of the place where you go to relax and take a mental break from worries of the COVID-19?
Hungry? Baking? Eating?
How has your diet changed during the pandemic? Share your favourite recipe.
Staying Fit
Has your exercise routine changed during COVID-19?  For better or worse?
Our Community
Are you going for a walk today?   Take a photo of your community that shows how COVID-19 has changed the everyday?
The New Normal?
How did you feel on March 12, knowing your children might not be going back to school? 
How did you feel on March 24 when most non-essential businesses were closed down? 
How did you feel on April 26 when extensions until May 31 happened?  
How did you feel on July 17 when the Province of Ontario opened for phase 3?
How did you feel in September when the children went back to school?
How did you feel in September when the case numbers started to rise?
How do you feel today?
Working from Home
Are you working from home?   What does your home office look like?  What do you miss the most (or the least) from your regular work?
Hobbies
Have you started a new hobby or restarted an old one?   Do you think you will continue this hobby after the pandemic? Get someone to take a photo of you working on your hobby or send us a selfie.
Essential Workers
Are you an essential worker?   What does your daily routine look like?  What has changed the most for you? What do you wish people knew?
Agribusiness
Are you part of Huron County's agribusiness community? How has COVID-19 effected your business, markets, and lifestyle?
The Business Community
Are you a part of Huron County's industrial and business community? How has COVID-19 effected your staffing, business and markets?
Life Events & Celebrations
What events took place with COVID restrictions, while staying at home, or physically distancing? What did these life events or celebrations look like with the COVID-19 restrictions? How did you celebrate?
Ex. births, deaths, birthdays, weddings, family celebrations, holidays
#Hashtag
What is your favorite social media account or hashtag to follow while in self-isolation?
Are we in this Together?
 Write about how people of your community have come together to stop the spread, help those in need, and/or stay positive.
Stay Social!
Who do you talk to that doesn't live in your house?  How do you stay in touch?
The Big Picture
The big picture? What are some of the silver linings from the pandemic, and what are some of the negative impacts COVID-19 has had on your community, Canada, or the world?
COVID-19 Artifacts
What are some items that should be in the Museum collection that will be important artifacts to tell the story of the COVID-19?
Hello Me!
Write a letter to yourself to be read in the future.  
Tell Me the Truth
What is the worst part of the COVID-19 pandemic? What do you worry about? Are there any positive points of what has happened over the last months?
Employment & Work
Were you able to continue working during the pandemic? Have you returned to your workplace? How has your workplace changed? Were you unemployed or redeployed during the pandemic?
Masks
Did you sew your own masks or masks for others? Where did you get your mask and why did you choose it? How does wearing a mask make you feel?
Teaching During COVID
Share an example of a lesson plan or modification to your classroom setting as a response to COVID-19.
Sharing a Chat
Were you able to visit with family and friends during the pandemic? Did you chat over the fence or through the screen door? Did you visit with family members at one of the Homes for the Aged for indoor or outdoor visits?
Kindness
Be kind to one another. Tell us about an act of kindness during COVID-19.
We Need a Vacation
What or where did you visit in Huron County for a staycation?
A Little Bit of Normal
What activities helped make life seem a bit more like normal? Did you hurry to get a hair cut after re-opening? Did you eat dinner at restaurant on a patio or inside? Did you take your children to the park? Did you get a book from the local library?
Everyday Heroes
Tell us about someone in your community that you think is an everyday hero. Are they a neighbour, essential worker, someone who made you smile…..?
Looking to the Future
How will this pandemic change our communities and lives?
2020: A Year of Change
It seems like more than just the pandemic has made 2020 a year a change. When did you shrug your shoulders or shake your head and say, "Its 2020!"? What other history making events have changed your life, kept you reading the news, or sparked discussions in your home?