Directions to Gairbraid
Gairbraid is accessible by way of the Maitland Trail.  From Highway 21 north of Goderich turn left (west) onto Airport Road, then left (south) onto River Ridge Crescent. Follow this street to an end-of-road yellow and black diamond marker. Turn left at the diamond, go down a hill, and park your vehicle. Walk around a gate, then left onto a rail-trail. Follow the trail for about 0.3 km  until you see a small sign on the right side of the trail marked with the word "TOMB" and a small arrow.  The trail bed is uneven and slightly uphill but easily walked.
You can enjoy scenic views of the Goderich Harbour from this site.
Gairbraid
81501 River Ridge Crescent, Goderich
Visit Gairbraid, located on the Maitland Trail, just north of Goderich.
Here you will find  a small cemetery.  It is the burial plot of the founder of Goderich, Dr. William "Tiger" Dunlop. His burial plot is located on a large tract of land on a bluff overlooking the Maitland River just north of Goderich. This was where Dunlop had plans to build a new town named Gairbraid, named after a town near Glasgow, Scotland.
The town was never built, and after Dunlop's death in 1848 he was buried there.
The small park and stone-walled tomb enclosure are the last remnants of Gairbraid, the 845-acre estate acquired from the Canada Company in 1833 by Dr. William "Tiger" Dunlop and his brother Captain Robert Dunlop, Royal Navy.
Dr. William "Tiger" Dunlop
Dr. William Dunlop was born in 1792 in Greenock, Renfrewshire, Scotland. His first acquaintance with Canada was as an army surgeon arriving at Lachine, Quebec in 1813. A later sojourn in India involved some adventures with tigers, and produced his famous nickname.
His enduring fame here comes from his appointment in 1826 as Warden of the Forests for the Canada Company, in association with John Galt. Together they founded Guelph in April 1827 and Goderich in June. Dunlop oversaw the exploration of the Tract, the opening of the first roads, and the arrival of the earliest settlers.
In 1833 Dunlop was appointed General Superintendent of the Huron Tract. He resigned from the Canada Company's employ in 1838.
Dunlop's active career ended with his appointment as superintendent of renovation work on the Lachine Canal. He died there on June 29th, 1848. His last adventure was the trip his coffin made home from Montreal to Goderich, ending with burial here, beside his brother Robert, who died in 1841.
Sketch of the Village of Gairbraid: 30th December 1834 by David Smith
The tomb enclosure also contains the graves of Robert Dunlop's wife Louisa McColl and several of her relatives.
There was a town plan drawn up for a village to be named Gairbraid, using a central octagon with radiating streets in a design similar to Goderich, but this dream was never realized.
Dunlop belongs to the earliest heroic era of discovery and settlement in the Huron Tract. The exuberant Tiger frustrates attempts at brief summary. He was a large man with a larger personality. Many anecdotes survive and preserve his legend. Some sense of his varied abilities and accomplishments can be gained from the credits in the inscription on one of his portraits:
William Dunlop, Esq., M.R.C.S.
1792-1848
"The Tiger"
Assistant Surgeon 89th Regiment
Lower Canada, Niagara Frontier, 1813-14; India, 1815-20
Lecturer in Medical Jurisprudence, Univ. of Edinburgh
Warden of the Forests, Canada Company
Lieut.-Colonel 1st Huron Regiment, 1837
Commissioner of the Peace, London District, 1838
M.P.P. For Huron, Parliament of Canada, 1841-45
Litterateur, Colonizer, Patriot
A reading list of works that give an understanding of the man and the times includes:
In the Days of the Canada Company, Robina and Kathleen Lizars, 1896 [Coles Canadiana reprint, 1972].
The Tiger of Canada West, W.H. Graham, 1962.
The Canada Company, Thelma Coleman, 1978.
Dunlop's own writing:
William "Tiger" Dunlop, Blackwoodian Backwoodsman: Essays by and about Dunlop, Carl F. Klinck, 1958; contains material from the various phases and locations in his life.
His main Canadian works were:
Recollections of the American War 1812-1814; published in the LITERARY GARLAND magazine in Montreal in 1847; as a book in 1905.
Statistical Sketches of Upper Canada for the Use of Emigrants, by a Backwoodsman; published in London, England in 1832.
These were brought together in a single volume Tiger Dunlop's Upper Canada, New Canadian Library edition, 1967.
To see displays and artifacts relating to Dunlop, the Canada Company, and the development of local governance in Huron, visit the Lattimer Gallery in the Huron County Museum.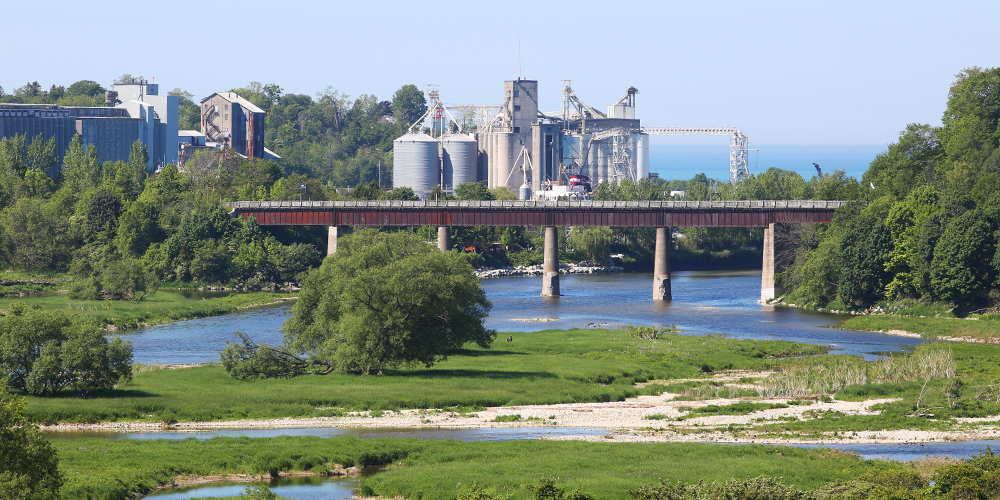 Pictured: The view from Gairbraid