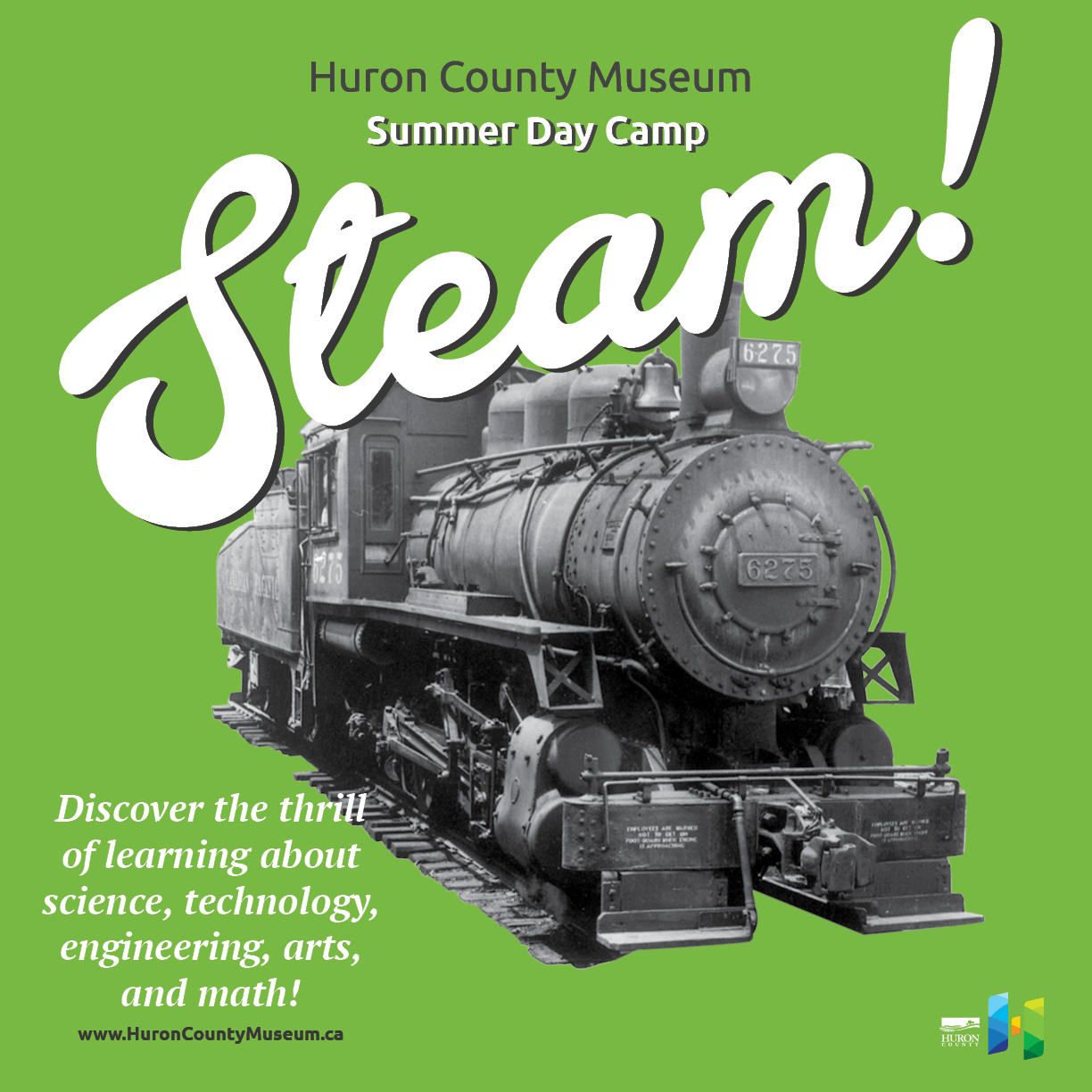 S.T.E.A.M. Power Summer Day Camp
Explore and discover Science, Technology, Engineering, Art and Math
All aboard! It's full steam ahead for the Huron County Museum and Historic Gaol's S.T.E.A.M. Power Camp!
STEAM Camp is for children ages 5-10
Camp cost $135 per week ($115 for Museum Members)
Register now at the front desk,
or save your child(ren)'s spot by contacting
us at: museum@huroncounty.ca or
519-524-2686
Camper drop off between 8:30-9:00
Camper Pick up between 4:00-4:30 pm
Tinkerer, Curator, Spy
July 13-17, 2020 -SOLD OUT
Make, build and go behind-the-scenes at the Huron County Museum. Create a mini-exhibit, design a disguise, invent a machine, solve a mystery, and check out the strangest, weirdest, most unbelievable artifacts from the museum's collection. For ages 5-10
World Famous
July 27-31, 2020 –
SOLD OUT
Be a globetrotter & travel the world (and through time) all from the Museum – somewhere new every day! Imagine your own international travels, use hands-on play to explore cultures from around the globe, and discover what makes Huron County famous around the world!  For ages 5-10
Eco Action
Aug 10-14, 2020 –
SOLD OUT
Get active to find out more about our natural environment in the past, present and future and how to defend it! Make a splash with our interactive Ripple Effect exhibit about Huron's waterways, and get your hands dirty in the Museum's garden. Build and invent with upcycled materials.  For ages 5-10
PA Day Camps
Kids love spending time at the Huron County Museum & Historic Gaol!
Full Day PA Day Camps run from 9:00 a.m. -4:00 p.m. with early drop off available at 8:30 and late pick-up available until 4:30 p.m
PA Day Camps are for children ages  5-11
PA Day Camp cost is $37 per child or just $31 for Museum Members.
Games & Toys of the Past, Present & Future!
January 31, 2020
Try games and toys your parents and grandparents might have enjoyed, and invent new games of your own. For ages 5-11
Planes, Trains, and Automobiles
May 1, 2020
Learn about the boats, planes, farm machinery and other vehicles on display at the museum-including climbing aboard our famous steam locomotive. For ages 5-11
Unlocking History
June  8, 2020
Hands-on history at the Huron Historic Gaol, including lock mechanics. For ages 5-11