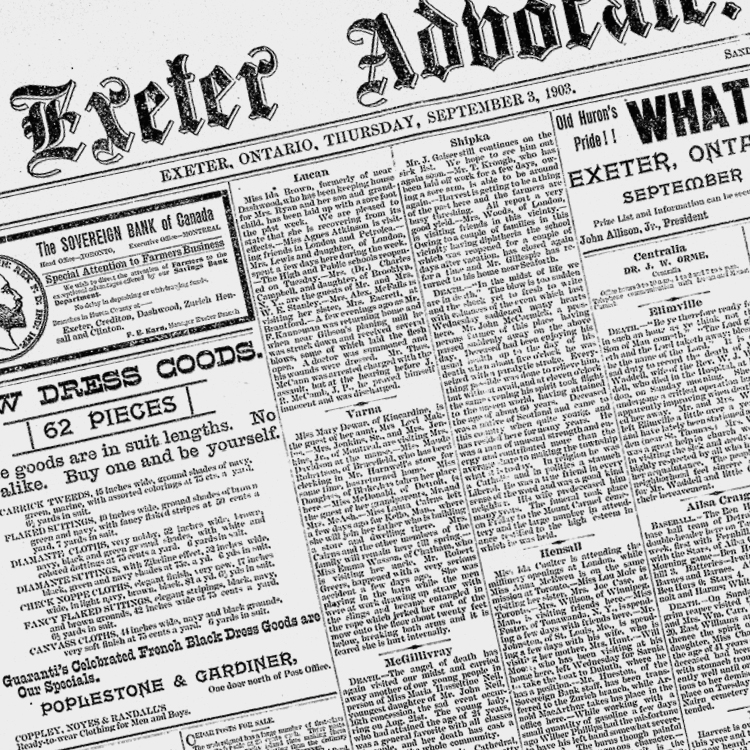 A Virtual Museum
Browse the Huron County Museum and Historic Gaol's virtual collection from the comfort of your own home!
Available anywhere there is an internet connection.
The Huron County Museum & Historic Gaol along with the Huron County Library and Huron County Cultural Programming strive to make Huron County resources accessible to as many people as possible. 
The Huron County Museum and Historic Gaol's on-line resources are ideal for teachers, students, researchers, genealogists, historians, designers or anyone looking for unique Huron County content.
You can easily access historic newspapers, artifacts, photographs, videos, 360° virtual tours, and historic documents anywhere, anytime, on-line for free!
Huron Historic Newspapers, Magazines & Diaries: 1848-2019
The digitization of historical Huron County newspapers from microfilm and hard copy holdings is an ongoing long-term project undertaken by the Huron County Library and Huron County Museum.  Currently more than 700,000 newspaper pages are available spanning from 1846 to 2019. The digitized collection also includes the magazines Rural Voice, Townsman and The Village Squire, and diaries representing early rural life in Huron County.  
For quick tips and search suggestions please visit our Digitized Newspaper Information page.
Huron County Museum Online Collection
To make our Collection more accessible, The Huron County Museum has selected over 6,700 artifacts and archival materials to be included in an online database.
Explore the Huron County Museum's Online Collection to discover examples of textiles, tools, personal items, furniture, photographs, documents, and many more artifacts and archival records held at the Museum.
Huron County Historic Photographs
Visit the Huron County Museum on Flickr to discover royalty free photographs depicting Huron County people and places.
Additional Huron County photographs can be found in the  Huron County Museum's On-line Collection above.
High resolution images can be made available for a fee by contacting the Museum.
Huron County Museum Videos
Visit the Huron County Museum and Historic Gaol on YouTube.
The videos on this channel were produced by the Huron County Musuem and Historic Gaol with funding from the Province of Ontario and the Government of Canada.
The Henderson Collection: WWII Photographs
A collection of images documenting the history of WWII air training in Huron County, Ontario.  All photographs featured in this collection were taken by Goderich photographer J. Gordon Henderson and represent a small part of the large collection of Henderson's professional work held at the Archives at the Huron County Museum & Historic Gaol.
The Henderson Digital Collection was produced by the Huron County Museum with funding from the Province of Ontatio.
Huron County Salt Story Walking Tour
Using your smart phone as your guide, you can explore Huron County's Salt Story by foot in the Town of Goderich.
HAHN Walking Tours
Enjoy historic walking tours of Goderich. The first five audio tours guide you through the streets of Goderich and take you back in time through storytelling. The tours give you instructions on where to walk, and then tell you stories along the way.
Seven more historic audio walking tours that highlight Bayfield and Blyth, will be realesed in the spring of 2020.
The tours were developed by Huron Arts & Heritage Network with funding support from the Huron County Economic Development SLED Fund and from Regional Tourism Organization 4.
Virtual Exhibits
The Huron County museum's virtual exhibits provide a way to explore the artifacts, archives, and exhibits outside the Museum walls. Exhibits include artifacts from our permanent galleries, as well as virtual exhibits based on special interest research subjects and past temporary exhibits.