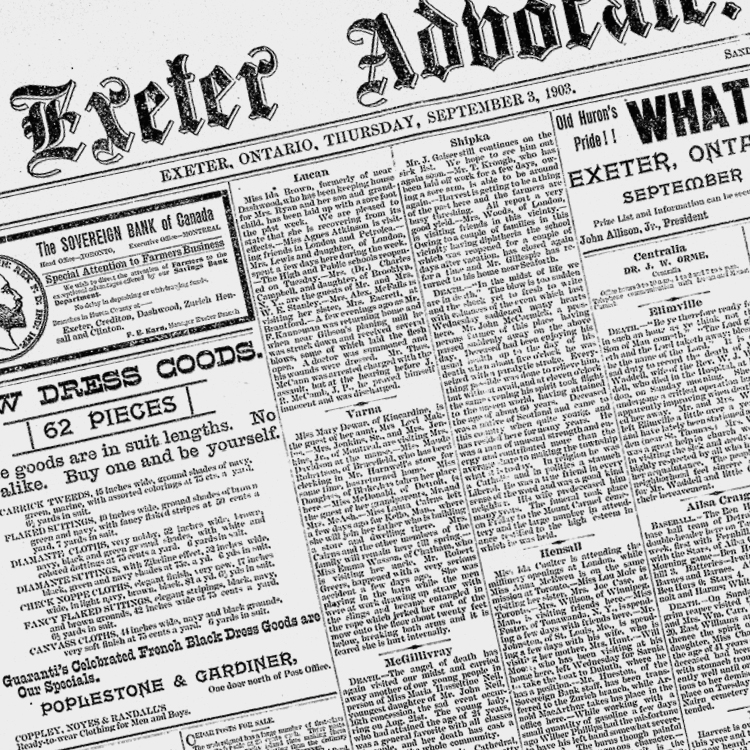 Explore more than a century's worth of historic news on-line for FREE!
The digitization of historical Huron County newspapers from microfilm and hard copy holdings is an ongoing long-term project undertaken by the Huron County Library and Huron County Museum.  Currently more than 350,000 newspaper pages are available spanning from 1848 to 2016 and more are being added all the time! 
Huron County Newspapers & Magazines Now Available to Search Include:
Bayfield Breeze 2009-2018
The Bayfield Bulletin, 1964-1968
The Bayfield Post, 1981-1982
The Blyth Standard, 1893-1982
The Brussels Post, 1885-1929
The Citizen (Blyth/Brussels) 2016-2018
The Citizen, 2015-2018
The Clinton New Era, 1874-1921
Clinton News Record, 1912-1945
Dungannon News, 1915
East Huron Gazette (Gorrie), 1892-1893
The Exeter Advocate, 1888-1924
The Exeter Times, 1873-1924
The Exeter Times Advocate, 1924-1926; 2002-2008
The Fordwich Record, 1901, 1935
The Gazette (Mildmay), 1894
The Goderich Illustrated Signal-Star, 1889
The Goderich Star, 1868-1933
Goderich Reporter, 1880
Greater Goderich, 1918
The Huron Expositor (Seaforth), 11869-1980; 2013-2016
The Huron Loyalist, 1850, 1853
Huron Gazette (Goderich), 1848-1849
The Huron Record, 1881
The Huron News-Record, 1888-1897
Huron Signal (Goderich),1848-1936
The Lucknow Sentinel, 1875-1940; 2013-2016
The Seaforth News, 1917-1962
The Seaforth Sun, 1901                 
Wingham Times, 1882, 1885-1916
The Wingham Advance, 1889, 1893, 1902-1921
Wingham Advance-Times, 1922-1935
The Wroxeter Planet, 1909
The Wroxeter Star, 1900; 1902-1904
Zurich Herald, 1900-1957
 Zurich Citizen's News, 1958-1978
Huron County Magazines
The Rural Voice
The Village Squire
Newspaper Search Hints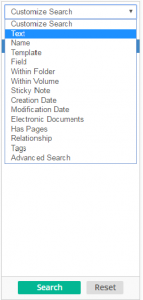 Having problems/errors while searching? First go to "search" on the upper lefthand of Laserfiche Weblink. Try hitting "reset" at the bottom of the search pane & then customize your search parameters! Use "Text" to make your keyword searches more successful and use "Field" to search by city or date.
Use 'General Search' to find specific issues of newspapers by title or date quickly. 
'General search' is the automatic search option you will see when you look at the newspapers for the first time, and works for simple keywords or information in a newspaper's title. Each newspaper is named according to the title, date and page number. To quickly find a specific newspaper (ie "Exeter Advocate") or specific date or partial date (ie 1880-1-1), type them into the "general search" bar. For example, typing 1880-11- will bring up every newspaper from November, 1880 (as well as instances where 1880-11 appears within a newspaper).
Use "Text Search" to search for people, places, events and organizations!
(find "text" by clicking "customize search")
This function will allow you to instantly search within the text of thousands of newspaper images, and narrow using 'and', 'or,' 'within' and 'Not.'
Use quotation marks to search for a phrase!
Use quotes to significantly specify & reduce the number of results you see. If you put quotation marks around your search term, results will only show those instances where a combination of words occur together in that order, rather than instances where they appear on the same page coincidentally.
Use 'within' to limit results!
Select 'within' to narrow results to instances when the terms appear within a certain proximity to each other (ie search "Trinity Church" within 10 words of "Blyth" to help eliminate or reduce results for any other "Trinity Church"). This will help you narrow the results, even when you're not sure what order the words will appear in.
Use 'or' to find more relevant hits & save time!
If the name or subject you are searching for has a common alternate spelling or misspelling, use "Or" to search for both versions and maximize your results.
Use 'And' to quickly look for two phrases together!
Select 'And' to find instances where two subjects appear together on the same page.
Use an asterisk for wildcard searches to get more results!
Searching for "John Al*n" will show results for John Allin, John Allen, John Allan, John Alan, John Allyn, John Allison, etc. Typing an asterisk (*) within your search term will return results with multiple possible characters in its place, finding variations on the same root word (ie searching for jail* will also return results for jailer, jailed, etc)  or misspellings of names.
Use "Field" to narrow your results based on the publication date or place of newspapers!
(find "field" by clicking "customize search")
Use "field" searches in tandem with the subjects you enter under "text" to find exactly what you're looking for.
Search within a specific date range!
Under Field, select "publication date" in the drop-down menu, and enter the date range you would like to search within (Note: you must select a year, month & date)
Search within one town/village!
Under Field, select "city" in the drop-down menu, and enter the name of the town or village.  (Note: This will narrow any results to those newspapers published in that community)
Use 'within folder' to search within specific folders!
(find "within folder" by clicking on "customize search")
As well as being keyword searchable, the newspapers are organized by community and date. Choose a community name or date by clicking on 'browse by year' or 'browse by town" on the >newspapers screen. After you have chosen the folder you would like to search within, select "Search," and then add "within folder" to your search pane. Now when you search for text or a specific field, the results you see will only originate within the folder you selected (ie > Newspapers > Browse by Town > Exeter > 1899).
MORE HINTS
Seeing error messages when searching?

 

Make sure all of your search fields are filled in-searches with blank fields may not work. You can delete search boxes you're not using by clicking the 'x' on the right of the search function, and add them again via 'customize search.'
Don't see the community you want to research? Search anyway!

 

You may still find lots of results: Huron County papers covered notable regional, national & international stories, as well as carrying items from other local papers. If the organization you're searching for was in Brussels, you might still find a mention of it in a Wingham newspaper if a Brussels paper doesn't exist for that time.
Looking for your ancestor by name?

 

Try searching with shortforms for common Christian names (ie Geo., Thos., Wm., Jno., Chris., Alex.), and also try searching Miss, Mr., Dr., Rev., & Mrs. with the surname to either increase your results or narrow them. Use the "within" option on text searches to find cases where the first name is a few words away from the surname or in a different order (ie, if looking for "Joe Williamson" search for "Joe" within 5 words of  "Williamson" to find results like 'Williamson, Joe' and 'Mr. and Mrs. Williamson and son Joe' )
The OCR (optical character recognition)

 

program that reads the files is not perfect—if your subject turns up no results on an initial keyword search, you might be able to read relevant information with the human eye that the OCR has missed if you search by date-especially for badly damaged or faded issues.
If you know the date of a marriage, death or other notable event,

 

try filtering by date & browsing through the relevant newspapers, even when you don't see results with keywords
Try searching alternate spellings & misspellings ie the OCR program would have trouble distinguishing between the 'i' and 'l' in M-C-I-L-W-A-I-N, so also search M-C-I-I-W-A-I-N or M-C-L-L-W-A-I-N. The longer a name, the more likely the computer program will misread one or more of its letters: use the asterix wildcard searches to get more results. ie, to look for the surname OSBALDESTON, try searching OSBA*
If you see no results for a name or organization,

 

try searching any other context information

 

you know (ie the lot and concession they lived on or street, groups, churches, or schools attended, and use  'and' or 'within' to narrow searches)