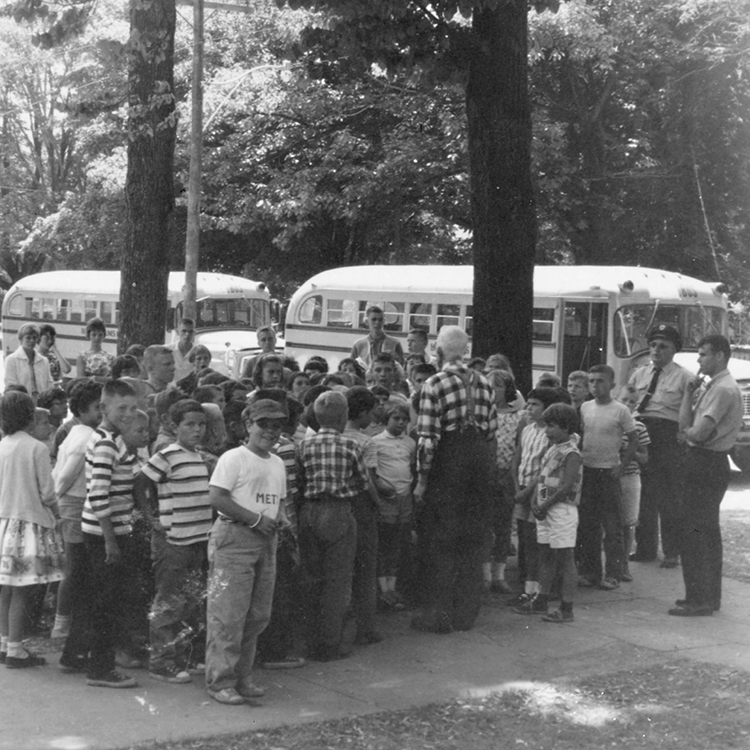 Group Tours
Guided tours of the Museum and Gaol are available for groups booked in advance!
Special discounted admission rates and guided tours are available to pre-booked groups of 15+ visitors during regular hours of operation, or groups of 20+ after hours. Regular admission fees apply to groups under 15 people.
Group tours include an introduction to the sites, question and answer periods, and time to view the galleries. Tours can also include custom programs tailored to the needs of the group by request, including themes or added activities and interactive elements. See rates below.
Contact museum staff for more information or to book your tour today! 
Photo at left: J.H. Neill, the Museum's Founder and first Curator, welcomes a school group to the Huron County Museum in the 1950s.
Group Tour Rates
Adults: $3.25+HST (one site) $4.75+HST (both sites)
Youth: $3.00+HST (one site) $4.50+HST (both sites)
Group facilitators, drivers, accompanying volunteers assisting with the program: FREE admission
Custom Group Tour Rates
Program fees apply for custom tours:
Per person rates: $3.50+HST (one site), $5+HST (both sites)
Minimum fees: $50+HST (one site) or $75+HST (both sites) for groups under 15 people
Group facilitators, drivers, accompanying volunteers assisting with the program: FREE admission