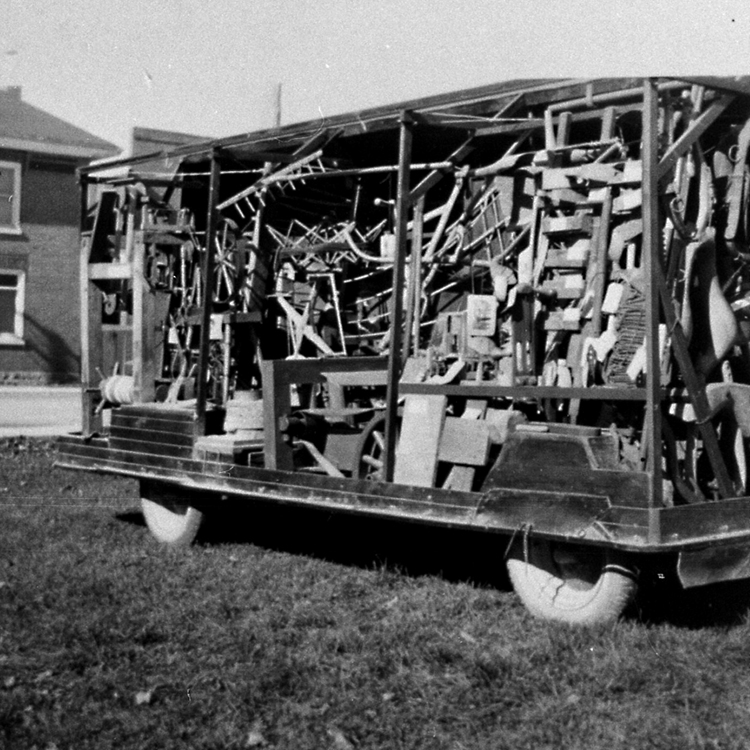 Before the "Huron County Pioneer Museum" opened in 1951, J.H. Neill, the Museum's Founder and first Curator, made plans for a travelling museum.  He designed these custom trailers to cart his collection around to local fairs and festivals.  Unfortunately the trailers were deemed unsafe for road use and were never used.  As a result, Mr. Neill required a permanent location for his collection which he found in the recently closed, Goderich Central School – the current home of the Huron County Museum.
Outreach Programs
Virtual and in-person presentations available to groups from across Huron County and beyond!
Huron County Museum & Historic Gaol staff are available to present to your group, event, or organization. Our programs can be tailored to meet the needs of your audience. We are happy to tailor programs to suit the unique needs of your audience. Learn more below about the Guest Speakers, Curator Talks, and Outreach Programs currently all available.
 Curator Talks:
Invite Museum staff to speak with your group across Huron County.   A variety of presentations are available.  Topics may focus on Museum or Gaol, exhibits, artifact collection, archival collection, current research,  or 'how-to' subjects.
Talks from Senior Curator Elizabeth French-Gibson
Reflections: The Life & Work of J.W. (Jack) McLaren

If These Walls Could Talk: Huron Historic Gaol

The Huron County Museum: The Past & Future of Your Museum
Talks from Curator of Engagement and Dialogue Sinead Cox
Our Oldest Inmates: Senior Prisoners in the Huron Gaol

Jailbreak!: Strange and Thrilling Escapes from the Huron Gaol

Death Sentence: What life & death were like for the inmates and staff at the Huron Gaol

Hot off the Press: Behind the headlines for the scoop on Huron's weekly newspapers

Stories of Immigration & Migration: Family Migration Stories to Huron County

Old News is Good News: How to search in Huron's digitized newspapers 

Huron's Untold Histories: Searching for Grey Township's Black Pioneers

Salt of the Earth: Salt Mining in Huron County
Talks from our Registrar Patti Lamb
Documenting Your Family Treasures

Cataloguing Your Collection

Artifact Collecting
Talks from our Archivist Michael Molnar
Archives Collecting

Researching Your Home & Property