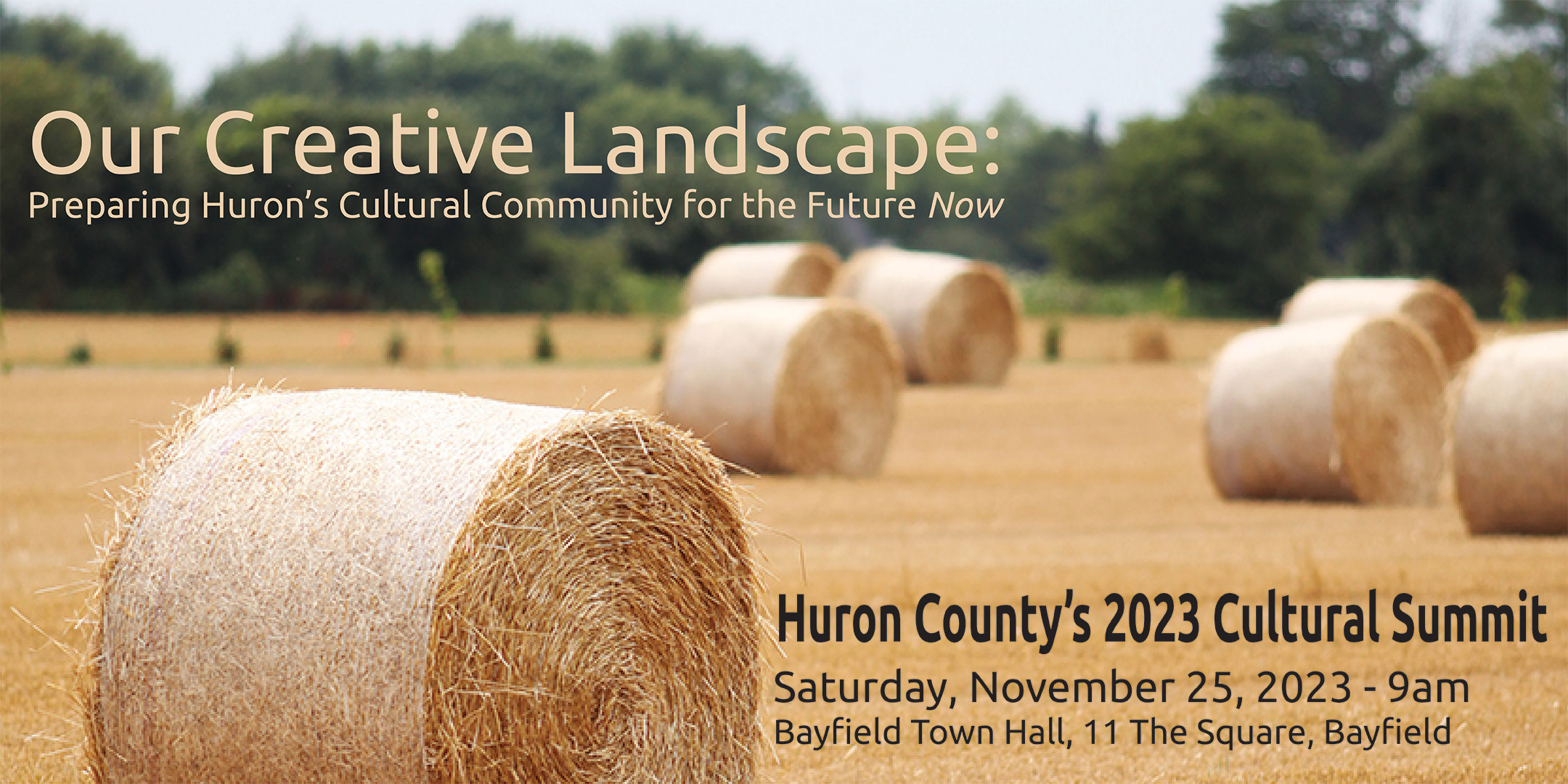 The County of Huron invites members of the County's arts, heritage and cultural sector to come together at this year's Cultural Summit to discuss preparing Huron's cultural community for the future.
Our Creative Landscape: Preparing Huron's Cultural Community for the Future Now runs Saturday, Nov. 25, at the Bayfield Town Hall and features keynote addresses, roundtable discussions, and networking opportunities for individuals and organizations from Huron's cultural sector.
Join us from 9:30 a.m.-3 p.m. as we welcome accomplished and knowledgeable speakers who will lead cultural conversations and provide presentations including:
Winning at Grant-Writing: Who's got the money and how do we get it? Anne Frost, a senior arts management educator and consultant and Program Coordinator for the Arts Administration/Cultural Management Program at Humber College shares tips and tricks of successful grant-writing. Touching on why funding is allocated, where you'll find the best prospects and just what the funder is looking for, Frost will share the key components of a persuasive funding proposal.
Creative Placemaking Activates Safe and Welcoming Community Spaces: From improving our quality of life and creating new opportunities for social connection to contributing to tourism development, creative placemaking plays an integral role in the vibrancy and vitality of our communities. Through in-depth research, interviews, and pilot projects, STEPS Public Art and Toronto Metropolitan University conducted a review of the social, cultural and economic benefits of public art and developed easy-to-use tools to assess the impact of initiatives. Cultural Planning Manager, Sam Mitjavile, will present this research and discuss key learnings and outcomes from some of the 600+ public art projects that STEPS has facilitated in Canada over the past 10 years.
Summit participants will also learn more about emerging trends around volunteerism and contribute to an engagement process that will help us all to fully understand the scope of our current cultural resources and inform a renewed plan for culture in Huron County.
Registration is just $30 and includes admittance to all presentations, lunch, refreshments, and an opportunity to win a prize! Summit delegates will also emerge with a renewed energy and a refreshed outlook for the future of arts and heritage in the County.
To register online, visit: Our Creative Landscape: Preparing Huron's Cultural Community … Tickets, Sat, 25 Nov 2023 at 9:30 AM | Eventbrite