The Huron Historic Gaol's popular evening Tuesday and Thursday tours, Behind the Bars, are coming to an end for another year! Your last chance to meet historic prisoners and staff from the gaol's past is Thursday, August 27th at 7-9pm. In celebration of another successful season, Colleen Maguire, one of Behind the Bars' veteran volunteer performers, gives readers a behind-the-scenes glimpse of what it takes to get into character and travel back to the gaol's past every Tuesday and Thursday evening in July and August. 
It is Thursday again and in a few short hours I will walk back into the 1890s. That's because I portray Mrs. Margaret Dickson in the Behind the Bars tours at the Huron County Gaol, Goderich.
These Behind the Bars Tours feature about 18 actors who portray real people who lived, worked and were inmates of the Gaol, now a National Historic Site.
Mrs. Dickson became the Gaol Matron aka Governess when her husband William became the Gaoler in 1876. Together the couple raised five of their own children while living and working in the gaol. This is my third year portraying this beloved matron. I have researched countless hours to learn everything I can about her and her husband. At any given moment I must be able to answer any question posed to me by the public and be able to accurately answer their queries as if I were Mrs. Dickson. Do come for a Behind the Bars Tour and hear the rest of the remarkable story.
With the research aside how does someone physically prepare for their role in Behind the Bars?
It's an hour and 15 minutes before the big doors of the Gaol will open to admit the curious so they can relive the history and the people of the Gaol where the 21st century literally collides with the 19th century.
[Physical] preparation for my role began months ago when I began growing my hair. The gaol is hot and [after] two [previous] seasons sweltering while wearing a wig it was time to try something different with my [short] hair. By growing it long enough I am able to pin an artificial matching hairpiece bun on the back. Now with a bit of practice, I can take my hair from a modern style to one befitting an older matron in the late 1800s. Mrs. Dickson was 67 years old in the year I portray her.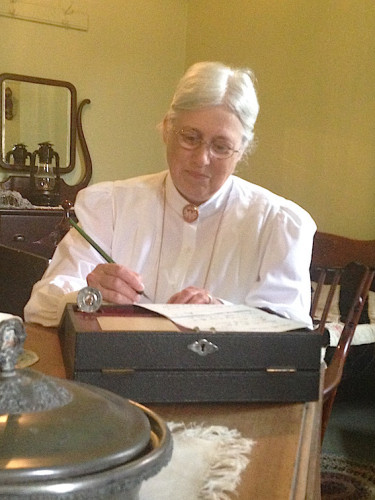 The process begins by trading my t-shirt for a 100% cotton camisole. I learned early on to remove any over-the-head garments before starting the hair. Based on a photograph of Mrs. Dickson from this time period I know that she had white hair, parted in the middle and pulled to the back. My own hair is white, but naturally wavy, so getting the right look requires using some hair wax, twenty-one bobby pins and a lot of hairspray.
While the hairspray dries, it's on to the next phase. Black stockings, then long pantaloons with a drawstring in front that have to be tied with a double knot, as they have been known to come undone resulting in a potentially embarrassing wardrobe malfunction. I then step carefully into my crinoline rather than take it over my head. The most common mistake that women reenactors make is not having the proper underclothing so that their dress or skirt can hang properly and fully. By now my hair should be fairly lacquered into place, so it's time to attach and pin the bun hairpiece on and remove some hair pins now that the hairspray has taken over. A quick glance at the clock tells me that I have approximately 15 minutes left.
It's a hot July day, so I grab my spray bottle and mist my cotton camisole with cool water, just enough to be wet through but not wet enough that my next item of clothing– my high collared, long, full sleeved Victorian working blouse–will become wet. I carefully guide and slip the floor-length long cotton twill skirt over my head. The Victorians were so smart, the closure on the back of my shirt allows me to button it at three different waist sizes. A little shake and my shirts fall into place. Next I clip my pewter Chatalaine to my skirt waistband; on its four long chains hangs two small keys- one for my writing desk and the other for Dr Shannon, the Gaol surgeon's medicine cabinet, a pencil, small scissors and a quarter-sized timepiece. Pinning an antique cameo pin on the front of my high collar, placing a wedding band on my finger, and putting on my pince-nez eyeglasses, the final glance in the mirror indicates the transformation is complete. With my driver's licence tucked into the lining of my antique purse, I set off for the car. Here is where history collides, for getting into a compact car with long skirts and lots of clothing is a bit tricky. You don't want to be driving down the street with an article of clothing sticking out of your car door.
Once at the Gaol I climb the spiral staircase to the second floor Gaoler's Apartment just as Mrs. Dickson would have done countless times. This is where the Gaoler and his wife and all their children lived. Well, that and a smallish cottage built in one of the courtyards of the Gaol in 1862. What about the Governor's House [a two-storey home attached to the gaol] you ask? Well that wasn't built until 1901, long after Mrs. Dickson had passed on in 1895.
Mrs. Dickson was prolific letter writer, whether it be asking for a raise or writing letters asking for a House of Refuge to be built in Huron County. She was a social worker long before it was a fashionable career for women. Consequently, I have chosen to use as my props a small writing desk, ink well, and nib pen. Each night I slip my black cotton sleeve protectors on and begin the task of writing grocery lists, and other letters. Sometimes I surprise the [other] actors by reading to them a letter from their family that I have crafted or handing Dr. Shannon [the gaol surgeon] a note about an newly admitted inmate. It's all part of the improv that takes place throughout the evening.
It's 7 PM and the big Gaol doors have opened and in have flooded the tourists anxious to experience what life is really like in a 19th-century Gaol.
"Please allow me to introduce myself. I am Mrs. William Dickson, the Gaol Governess."
Need to know more about what goes on behind the scenes at Behind the Bars? Check out coordinator Madelaine Higgins' earlier post about planning the event. 
Do you want to volunteer at the Huron County Museum or Huron Historic Gaol? To learn more about the Friends of the Huron County Museum, email museum@huroncounty.ca