On Saturday, August 22nd The Huron County Museum is transforming into Wonderland for a Mad Hatter's Tea Party. In honour of the 150th anniversary of Lewis Caroll's Alice's Adventure in Wonderland, Summer Museum Assistant Becca Marshall shares some of her favourite facts about the nonsense-novel and its legacy.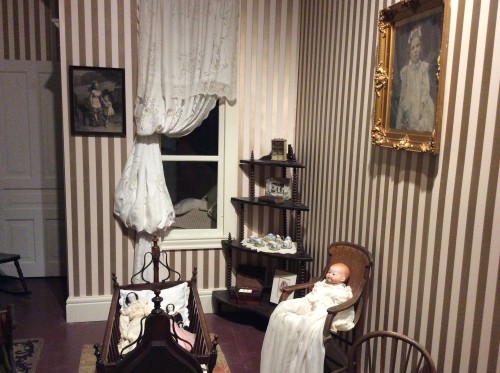 Have you ever visited the Victorian Apartment at the Huron County Museum? If so, you can probably picture the elaborate dining room set-up and recall the posted list of extensive etiquette required for Victorian tea time. It was social customs and rules such as these that inspired 19th century author Lewis Carroll to parody Victorian life in his fantastical novel Alice's Adventures in Wonderland. Scenes such as The Mad Hatter's Tea Party were influenced by Carrol's loathing for the rigid traditions.
Carrol's subtle digs at the Victorian culture are not the only secrets that this classic holds – so in celebration of Alice's 150th publishing anniversary here are 14 things you might not know about Alice and the man who imagined her iconic world:
Lewis Carroll was a pseudonym for Charles Lutwidge Dogson (born January 27, 1832 in the Cheshire village of Daresbury, England).
The original title for the novel was Alice's Adventures Underground. Dodgson then expressed his fears that this title might suggest a book containing 'instruction about mines' and then considered other titles such as "Alice among the elves/ goblins, or Alice's hour/doings/adventures in elf-land/wonderland." Preferring the final option Alice's Adventures in Wonderland was the final title.
3.  An apocryphal anecdote circulated that Queen Victoria was such a tremendous fan of the story, that she proposed that Carroll should dedicate his next book to her, An Elementary Treatise on Determinants, With Their Application to Simultaneous Linear Equations and Algebraic Equation—probably not what she would have had in mind. Dodgson denied this story.
4. Carrol's novels were banned in China in 1931 on the grounds that "animals should not use human language."
Carroll is credited with inventing the words "chortle" and "galumph" in Through the Looking Glass.
6.  There is unconfirmed evidence that Carroll had a rare neurological disorder called "Todd's Syndrome" (or suffered from similar migraine-induced symptoms). The disorder causes hallucinations that make visual objects appear to be changing sizes – often prompting the individual to feel as though their body is disproportionate. Psychiatrist John Todd discovered the disorder in 1955 and it was later named "Alice in Wonderland Syndrome" in reference to the theme of Alice and her surrounding objects shrinking and growing in odd ways throughout the book.
Alice's Adventures in Wonderland can be best classified by the genre "literary nonsense."
Carroll illustrated the original draft of his manuscript, but hired John Tenniel to do the published version.
Mock Turtle Soup is a real dish that was popular during the Victorian period. The heads, hooves, and brains of calves were used as a cheaper replacement for green turtle soup.
It was young Alice Liddell who inspired the famous novel. During a group boating trip with the Liddels Alice and her two sisters begged Carrol for a story. Happy to oblige Carrol cast Alice as the main character (her sisters Lorina and Edith were 'Elise and Tillie' in the Dormouse's story) and began creating ridiculous adventures for her to go on. Alice enjoyed the story so much that she demanded that Carrol write it down – thus creating the first draft of the book.
11. Why does the Mad Hatter have a 10/16 sign on his hat? Carroll answered this in the abridged "Nursery" Alice for younger        readers, explaining that the Hatter would carry around his hats to sell, and the one he wore was no exception. The 10 and 6        are for "ten shillings and six pence." This was a rather pricey sum in the Victorian age, alluding to superior quality and style.
12.To answer the Mad Hatter's famous question "Why is a raven like a writing desk?" we have Carroll's very own words, from a preface to later editions of the book…
"Enquiries have been so often addressed to me, as to whether any answer to the Hatter's Riddle can be imagined, that I may as well put on record here what seems to me to be a fairly appropriate answer, viz: 'Because it can produce a few notes, tho they are very flat; and it is nevar put with the wrong end in front!' This, however is merely an afterthought; the Riddle as originally invented, had no answer at all."  (Note how Carroll spelt "never" instead as a backwards "raven.")
That's a wrap, did you know any of these facts? Come join the Huron County Museum August 22nd to learn more and celebrate the 150th publishing anniversary of Alice's Adventures in Wonderland at the Mad Hatter's Tea Party from 11-4:30. Games, activities, refreshments and desserts await!