Patti Lamb, museum registrar, outlines Huron County's connection to the Disney legacy. 
While most of us know the impact that Walt Disney has had on the entertainment world; whether that be through the amusement parks that bear his name or the children's movies that we all love; few realize that his ancestral roots lie in Huron County. The connections in Huron County to Disney are rooted with his ancestors but modern day connections still exist.
Ancestral Connections
In 1834, Walt's great grandfather Arundel Elias Disney, wife Maria Swan Disney and 2 year old Kepple Elias Disney; along with older brother Robert Disney and his wife, sold their properties in Ireland, departed from Liverpool, England and immigrated to America landing in New York on October 3, 1834. According to a written biography by Walt's father there were 3 brothers that immigrated at the same time. The brothers went into business in New York while Elias (as he was most commonly called) made his way to Upper Canada settling in Goderich Township near Holmesville. By 1842, Elias had purchased Lots 38 and 39 on the Maitland Concession, a tract of land comprising of 149 acres. There, along the Maitland River, on Lot 38 he built one of the earliest saw and grist mills in the area. Brother Robert eventually purchased 93 acres on Lots 36 and 37 of the same concession. Elias and Maria had 16 children.
On March 18, 1858, Kepple Disney (Walt's grandfather) married Mary Richardson, whose family were also early Goderich Township settlers near Holmesville. They purchased a farm on Lots 27 and 28 of Morris Township near Bluevale. Kepple and Mary had 11 children of which Elias Charles Disney (Walt's father) was the oldest, born on February 6, 1859 in Bluevale and baptized in St. Paul's Church in Clinton. All 11 children would eventually attend Bluevale Public School. Kepple did not really enjoy farming. He liked to travel and became intrigued in the drilling industry so in 1864, while keeping the homestead in Morris Township, he moved his family to Lambton County. He stayed in Lambton for 2 years before arriving in Goderich.
Here, Kepple was employed by Peter MacEwan and worked for him drilling for oil at a well in Saltford, just north of Goderich. Instead of oil, it was salt that was discovered, but that's another story. In the July 1868 Voter's List, the Disney's appear as tenants of a house owned by James Whitely on Lot 275 in St. David's Ward, Goderich. School records show that in 1868, 8 year old Elias and 6 year old Robert would attend Central Public School in Goderich (now part of the Huron County Museum). It appears the Disney's left Goderich and moved back to the homestead in Morris Township sometime before 1869.
In 1878, Kepple left for California, where gold had been found, taking with him his oldest sons Elias and Robert. They stopped over in Ellis, Kansas and purchased 200 acres. Kepple sent for the rest of his family and his property in Morris Township was sold.
Ellis, Kansas is where Elias met neighbour Flora Call and on January 1, 1888 they were married. Kepple Disney's family moved to Florida in 1884 and Elias, Flora and son later moved to Chicago. On December 5, 1901, Walter Elias (Walt) Disney was born, the 4th child of 5 for Elias and Flora Disney. After living in Chicago for 17 years, when Walt was 5 the family moved to Maceline, Missouri. They lived there for four years before moving onto Kansas City, Kansas.
At age 18, Walt started work as a commercial artist and from 1920 – 1922 was a cartoonist. He moved to Hollywood and opened a small studio (Walt Disney Studios) in 1923. He married Lillian Bounds on July 25, 1925 who was working for Walt Disney Studios at the time. The Disneys later had two daughters, Diane Marie and Sharon Mae. In 1928, Mickey Mouse, originally named Mortimer, was created.
In June 1947, Walt made a trip to Canada to visit his ancestral past. He stopped in at the Bluevale Post Office to enquire where the Disney homestead was located then drove to the farm that his father had spoken of so fondly. Walt drove on to Holmesville to visit the cemetery where his Disney great uncles and aunts, and his Richardson great grandparents are buried. Walt also visited Central School in Goderich and took some time to draw some cartoons for the students. He stayed the night in Goderich before travelling to Detroit and flying home.
Walt Disney died on December 15, 1966 at age 66 of lung cancer. His wife Lillian died September 16, 1997 at age 98.
Penhale Wagon
Huron County Disney connections also exist near the small village of Bayfield, Huron County. In 1974, as a hobby, Tom Penhale started building custom wagons. By 1983, it was a full time business. Tom's business relationship with Disney started in December 1982 with the delivery of a set of hand crafted hames to the Walt Disney Ranch Fort Wilderness. In May 1983, he won the honour of building the show wagon that would compete in the 100th Anniversary of the Percheron Congress at the Calgary Stampede that coming June. He was chosen above many other craftsmen from all over North America.
Although a typical custom wagon would take about 3 months to complete, this one needed to be finished in 6 weeks. Official blueprints and a designer were flown in.
Working 16 hour days, with some local help, the wagon was completed on time. An artist came from the Disney World Studios in Florida to finish up. It was painted 4 different shades of blue, trimmed in 22 karat gold, and the lettering in silver spun with cotton.
Tom Penhale was given official recognition as the wagon builder when the Disney World Wagon was declared the World Champion Percheron Hitch during the 1983 Calgary Stampede.
A Disney Parade
In July 1999, Goderich was the host for the first and only Canadian Hometown Disney Parade featuring Mickey Mouse, friends and characters. There were only 5 cities chosen in North America that year. Doug Fines, who was the President of the Goderich Chamber of Commerce at the time, submitted the winning essay to the contest to host the parade. The essay needed to convey true Mickey community spirit but of course having ancestral roots in Huron County helped as well. The organizers were expecting approximately 50,000 people to line the 2 ½ km route through Goderich. It is estimated that the final number was closer to 100,000.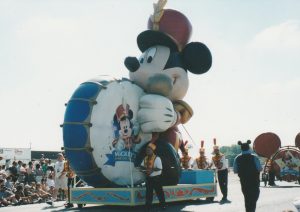 While the connections between the famed Walt Disney and Huron County are few, their significance is no less meaningful. From ancestral roots to prize winning wagons and parades, it really is "a small world after all".