Brooklyn Wright, Huron County Museum assistant, is working on the Henderson Photographic Collection this summer and highlighting some of the stories and images from the collection. Gordon Henderson was a Goderich-based photographer who produced black-and white photos using a variety of mediums, such as negatives, glass-plate negatives, and cellulose nitrate film. The collection housed at the Huron County Museum and contains more than 10,000 negatives and photographs taken by Mr. Henderson from the 1930s – 1970s. Included in the collection are class pictures, summer camp pictures, wedding pictures, advertising campaigns, pictures of local events, buildings, businesses, and much more.
The second annual Goderich Labour Day Celebrations took place in and around the Goderich Square on Monday, Sept. 2, 1946. The celebrations were captured in part by the above image from the Henderson Collection, but the full extent of the festivities lasted all day, and a wide variety of events took place.
That morning, a parade was held, starting at Victoria Park and ending at the Square. The procession included many different community members, including labour unions, local businesses, bands, and the fire department. Goderich Bluewater Band, dressed as clowns, was one of the participating groups in the parade. Afterwards various contests took place; boys and girls races were held, as well as hurdle jumping, tug-of-war, a softball tournament and a beauty contest. There was also a speech by Col. Lambert, padre of the Christie Street Hospital in Toronto. He spoke to the crowd of his pride and gratefulness towards the soldiers of World War One and World War Two, but also to the working men and women who produced the firearms, minesweepers, parachutes, and other supplies needed for the war effort. The day was deemed a great success in the Goderich Signal-Star, with congratulations in order for the organizers, the local Trades and Labour Council.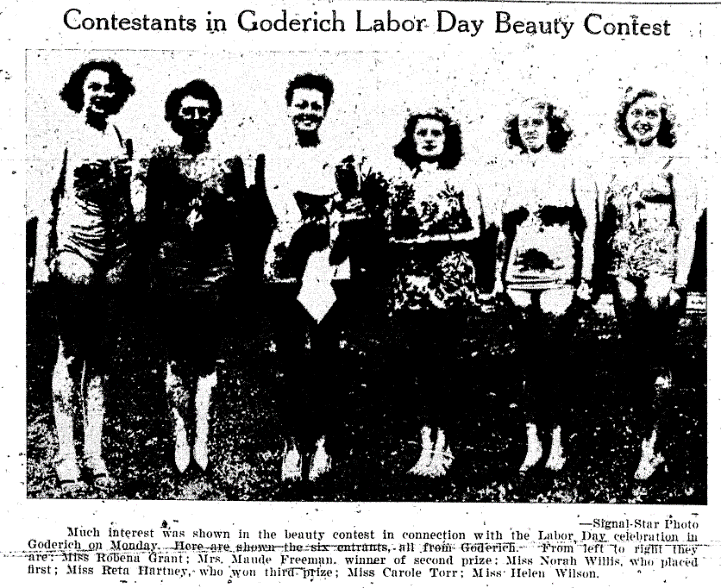 The Goderich Signal-Star, 1946-09-05