The Huron County Museum Gift Shop is adding to its selection of products made by area artists and makers and we are pleased to now carry the work of Huron Candle Works. Hand-poured in Seaforth, the candles celebrate the elements of Huron County: Bluewater Shores, Silo, Sunset, and Woodland. If you would like to pick up some of these candles, the Gift Shop is open during regular Museum hours and does not require admission to come in to shop and to support local! Learn more about Huron Candle Works below!
Who are you and what do you make?
We are Huron Candle Works, a home-based, two-person adventure to create and make beautifully-scented candles in Seaforth, ON. We make candles with fine fragrances that take time to curate and make for all who love them. We are all about unique, small and local.
How did you start making candles?
We have always loved the smell of gently layered fragrances that speak to us and our love of nature and storytelling. This has been a journey of inspiration and discovery. Knowing we would be moving to Huron County, our path began last year in our small downtown Toronto condo with non-stop street cars adding a background sound track to our scent tests! We spent months curating fragrances for our first release of four candles. We had friends and family do many blind smell tests to help fine-tune our choices.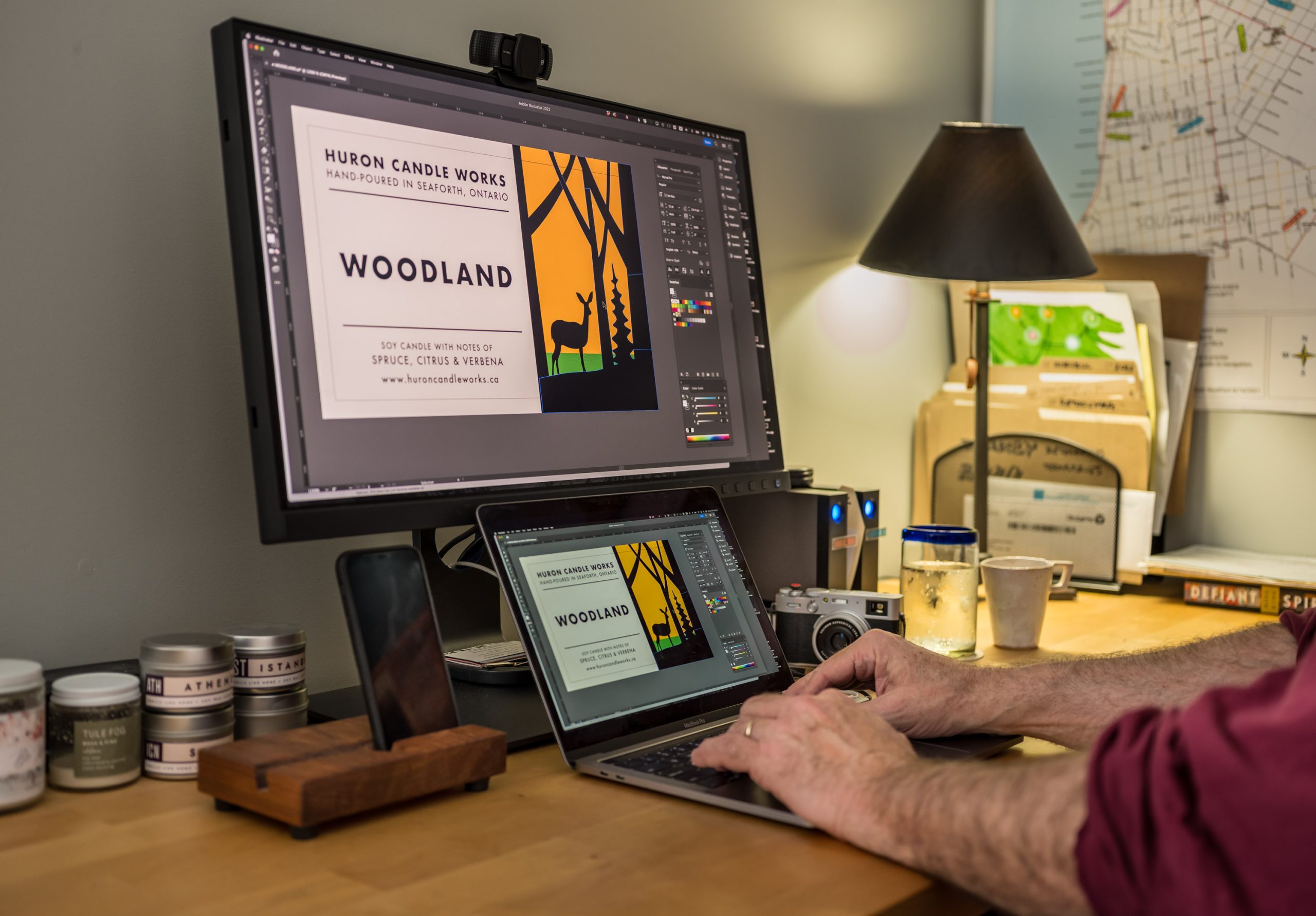 How would you describe your work?
Our candles are 100 per cent natural, clean-burning and sustainable soy wax. They burn long and clean and help to cleanse and gently scent the air in any room environment. They come in two sizes, 8 ounce clear or amber glass jars with screw-on metal lids, as well as four ounce metal tins, perfect for travel, study and a companion with a good book!
We both have artistic backgrounds. One of is a photographer and graphic designer, so the visual appearance of the labels is important from an aesthetic point of view and as a visual connection to elements found in Huron County. Our design aesthetic is like the land, simple, strong and memorable.
What inspires you?
For several years, we had been exploring Huron County as the place we would eventually move. Now here, we love the life, the people, the landscape, farming communities, and yes, even the winters!
The elements found throughout the county such as sunsets, golden fields, Lake Huron, woodlands, and rivers are just a few of the inspirations that we try to offer through scent. The sense of smell is such a visceral part of us all – and is our greatest challenge when trying to connect a representative scent with a physical thing. It has been fun to try to bottle the inspiration we feel into every candle with whom people can relate.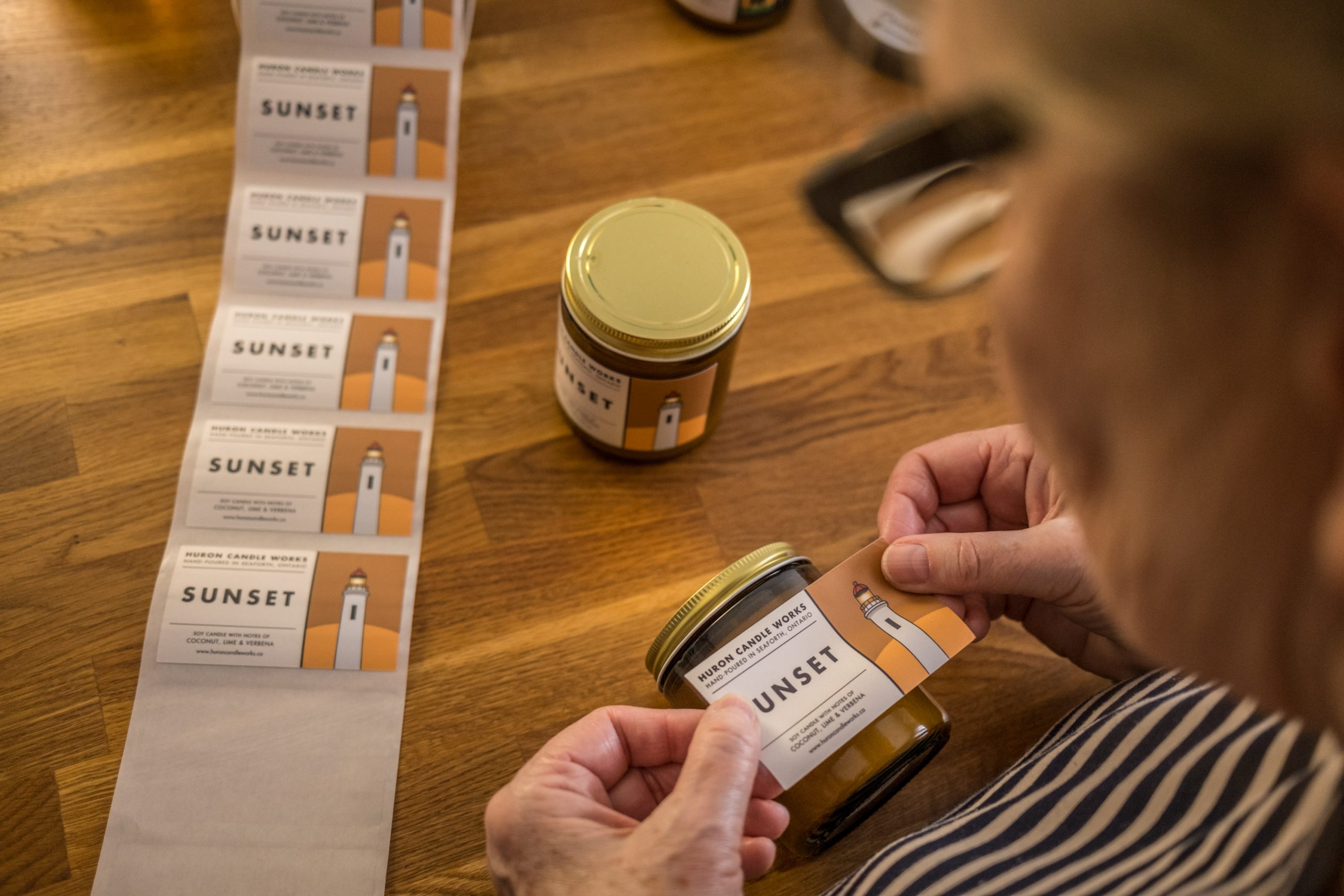 What do you like most about being a maker?
We are new to being makers and it has not been without a huge learning-curve and mistakes along the way! But as we see and hear from people who enjoy our candles, we still feel humbled and honoured. We are still at the early part of our journey and still feel it is a bit of a dream. A dream that brings us a smile and great satisfaction that we are connecting the land and people of the County to all who light up one of our Huron candles.
If someone likes your work and wants to see more, where can they find you (besides the Museum Gift Shop, of course!)?
We keep a small footprint. We are hyper local and want to keep it that way. We keep our social network tight, and can be found on Instagram at, @huroncandleworks where we have a fun and casual feed that is friendly, inclusive and interactive. We can also be found at our online store website, www.huroncandleworks.ca. As we slowly introduce new candles, checking in on the website will keep people current on what is being created.
In addition to a few local businesses, we can also be found at local community markets through the year. If you are out visiting a community market, please drop by and say, Hello!