Eloise Ann Skimings was a poet, musician, music teacher, composer, newspaper columnist and author. She was described as "one of Goderich's best-known citizens" and also "The Poetess of Lake Huron".  She was often seen in Goderich wearing elaborate dresses, hats, gloves and a parasol, and was described, by many, as "our distinguished townswoman". 
Eloise was born in Goderich on Dec. 29, 1837, to Mary Rielly Mason Skimings and James Skimings. She had two brothers, William and Richard, and one sister, Emma Jane, who died at two years, seven months.
Eloise was one of photographer Reuben Sallows's favourite models. Her photos were reproduced as postcards and some can be found in the Huron County Museum's collection as well as the prints. A large oil painting of her hangs in the Museum's Victorian Apartment display above the fireplace.
As an author, she dedicated many poems to the people she encountered during her lifetime and the subject of many of her poems reflect the land, life and times she lived in. She published a book of poetry Golden Leaves in 1890, which was lengthened to nearly 1,000 poems when it was reprinted under the same title in 1904. Her brother, lawyer and lieutenant Richard Skimings, was also an author of poetry and prose. Twenty pages of Golden Leaves were set aside for publication of his verse versus 326 pages for hers.
Golden Leaves was exhibited in the Library of the Women's Building at the Chicago World's Columbian Exposition (World's Fair) in 1893. This book was one of only two, penned by Canadian women, to be exhibited within that library building.
Also a music teacher, she composed and published music such as I think of Thee, Alice, National March, Forget Me not Waltz, and Golden Blossoms.
The archival fonds at the Huron County Museum consists of textual records and other material created and accumulated by Eloise A. Skimings during her career as a newspaper correspondent, teacher, poet, and composer in Goderich.  During her lifetime she received much correspondence and letters, including thank-you letters, letters from her family & friends, news correspondence from her time at the Clinton News-Record, and payments for her poetry book. Some of these letters were written by well-known people of the time, from political figures to royalty. A finding aid can be found on the Museum's website – Huron County Archives | Huron County Museum for researchers interested in reading more.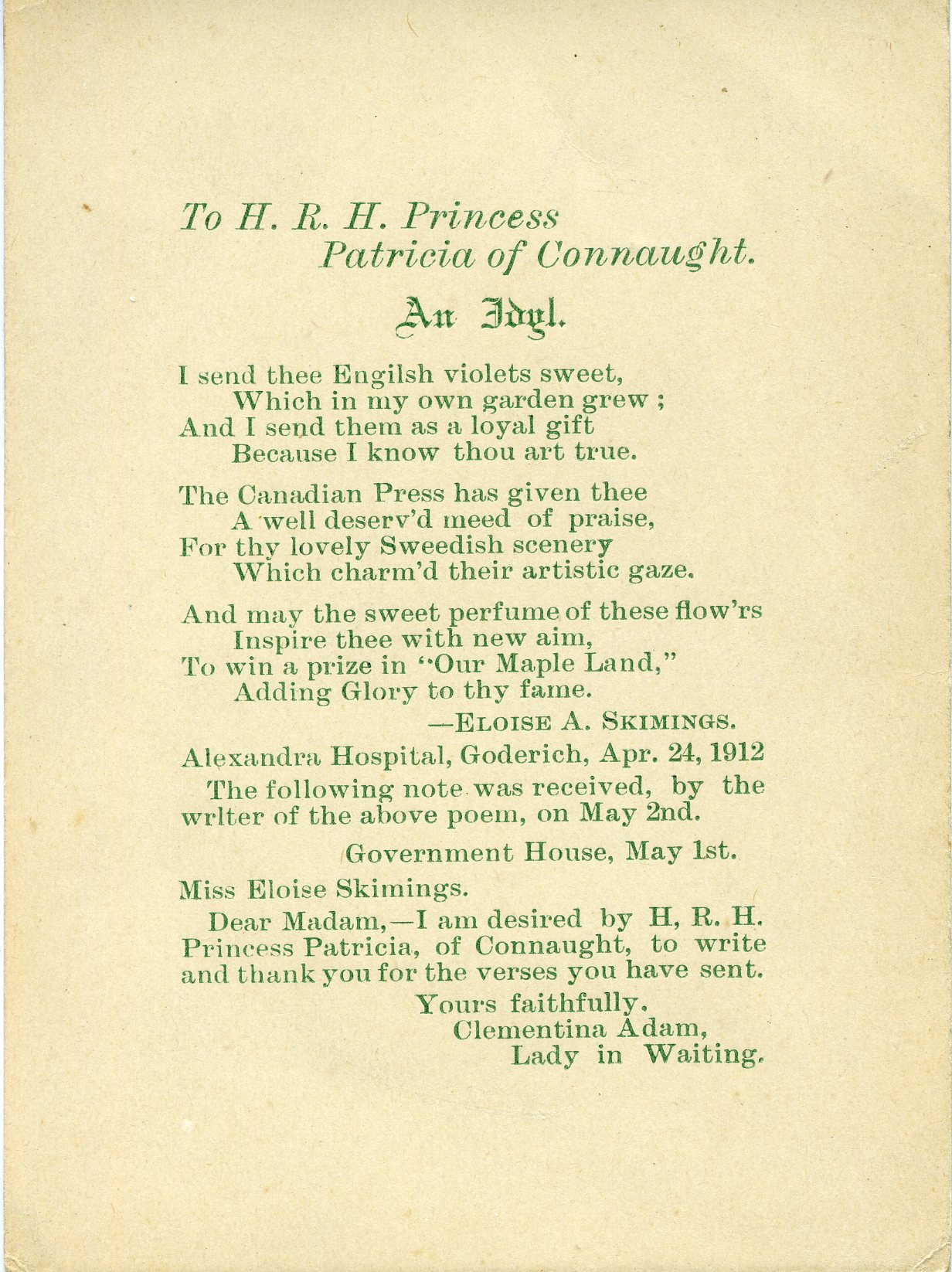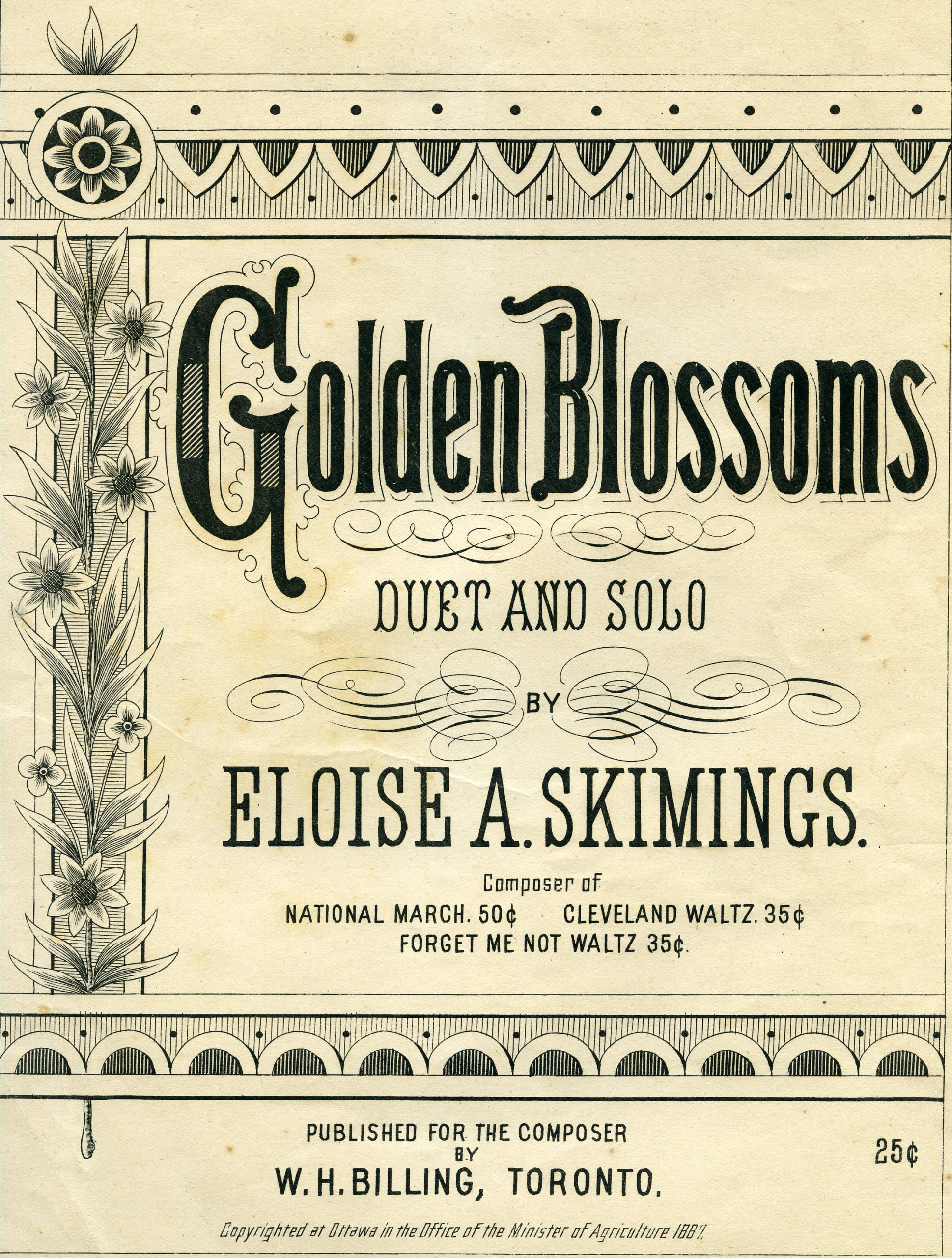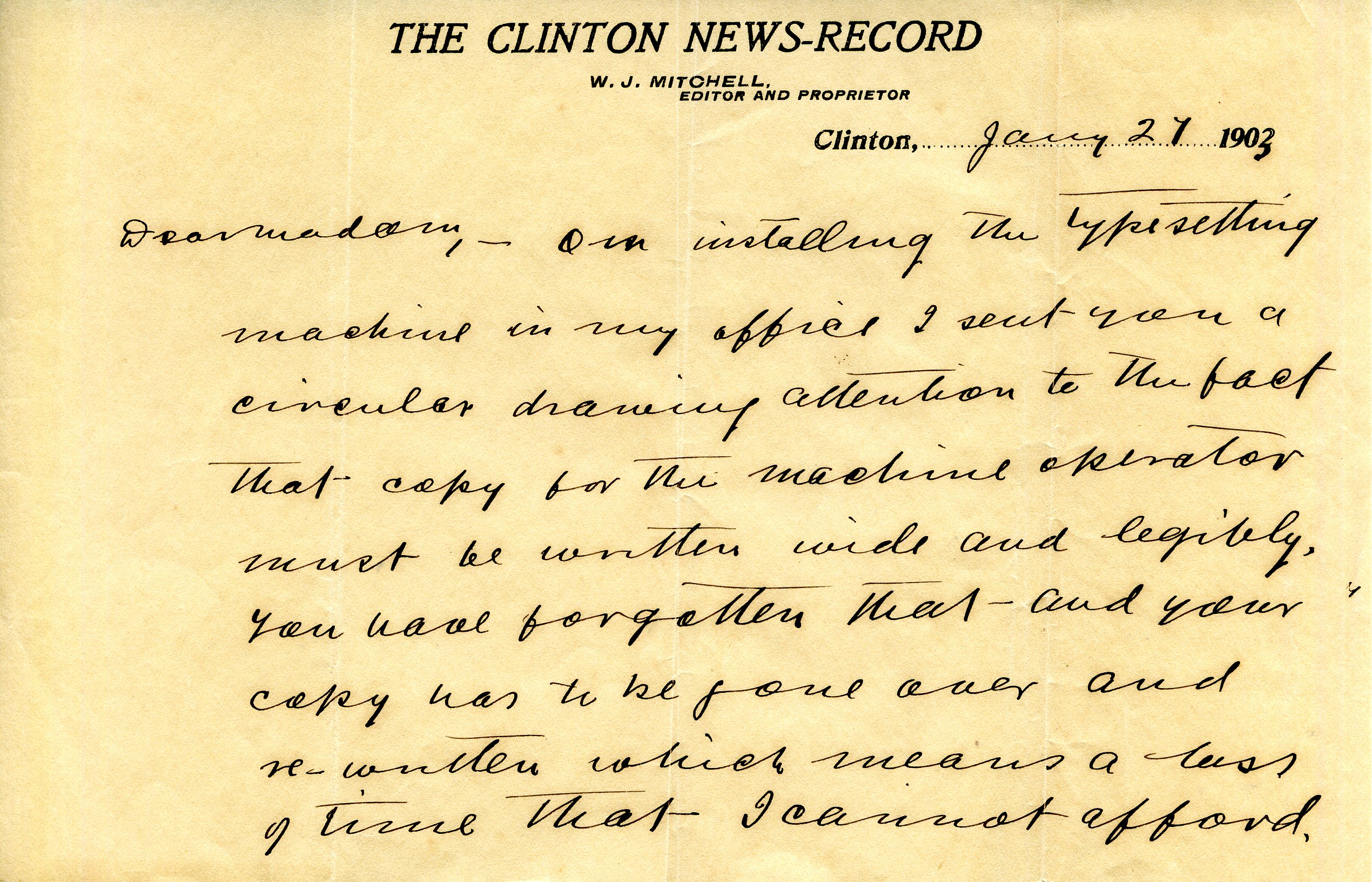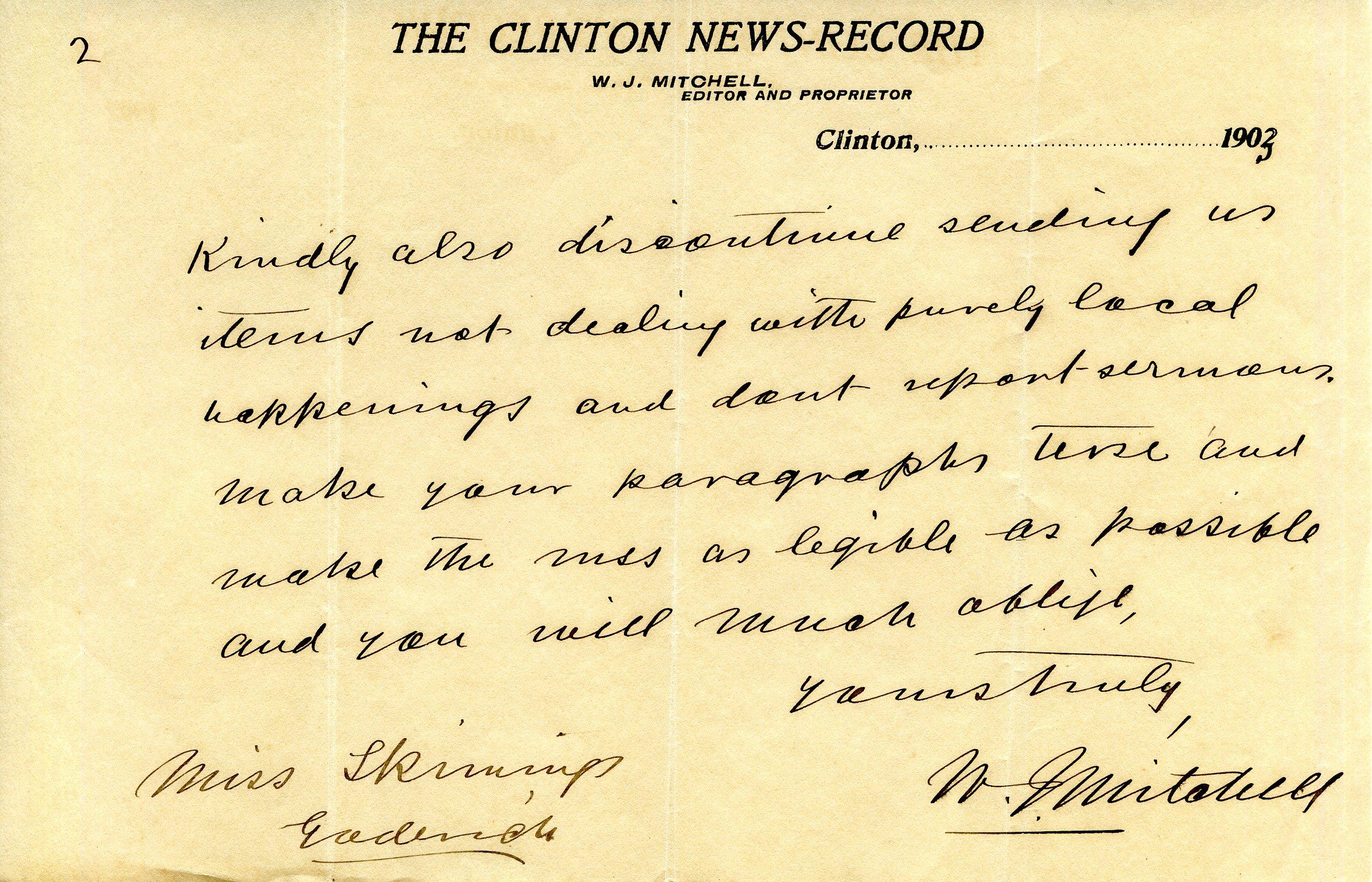 Images at left show two-page correspondence from our collection written Jan. 27, 1903 from Clinton News-Record Editor W.J. Mitchell. The full letter reads:

Dear madam,

On installing the typesetting machine in my office I sent you a circular drawing attention to the fact that copy for the machine operator must be written wide and legibly, you have forgotten that – and your copy has to be gone over and re-written which means a loss of time that I cannot afford.

Kindly also discontinue sending us items not dealing with purely local happenings and don't report sermons. Make your paragraphs terse and make the ___ as legible as possible and you will much oblige, Yours truly, W. Mitchell
On the occasion of Eloise's 80th birthday, it was "under consideration a proposal to mark" her 80th birthday with either "a concert or a public entertainment of some sort…doing honor to one who has for many years helped to keep Goderich before the world" (Goderich Signal Star, Thursday, May 8, 1919).
Eloise died at House of Refuge in 1921 and is buried at the Maitland Cemetery in Goderich, ON. Her death notice was published in the Clinton News-Record, April 14, 1914. From the digitized collection of Huron's historical newspapers.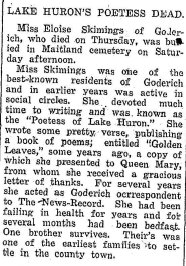 Princess Louise Margaret was the Duchess of Connaught & Strathearn and Viceregal consort of Canada while her husband Prince Arthur was Governor General from 1911 to 1916.

The full letter at left reads:

"__ presents her compliments to Mrs. Skimings, and is desired by her Royal Highness the Princess Louise to thank her extremely for the pretty song she composed for the birthday of Her Majesty the Queen. Her Royal Highness was much touched by Mrs. Skimings' loyal expressions and graceful poetry." 
Mamma's Bench, at right, once belonged to the Skimings family. Written on the bottom reads: "This cradle originally belonged to the Skimings family of Goderich, Ont. Eloise A. Skimings, the poetess of Lake Huron and her two brothers was rocked in this cradle.   May good luck fall on all children rocked in it. Gavin Green." Currently on display in the Stories from Storage exhibit. 2019.0037.001