Written by museum assistant Kevin den Dunnen, who is working on exhibit research projects this summer.
Over 6,600 people came through the Huron County Gaol's long and narrowing hallway between 1841 and 1922. For each entry into the Gaol, employees recorded information about that person such as the crime they committed, the institution they transferred to, their age, height, eye colour, relationship status, residence, religion, sentence length, etc. This registry is essentially a brief snippet into a person who, in many cases, would otherwise never have such detailed information about their lives presented for historical interpretation. A new exhibit at the Huron Historic Gaol presents an analysis of the people who came to the Gaol through the registry up until 1922. While the Gaol operated until 1972, due to privacy restrictions, staff can only access registry entries after they are 100 years old.
Interpreting more than 6,600 distinct entries in the Gaol Registry presents a challenge to museum staff who must comb through this information to provide accurate data about the prisoners of the Gaol. As part of my programs at school, I interpreted quantitative data and presented visually engaging infographics for public audiences. It was during my employment at the Huron County Museum & Historic Gaol last summer that I recognized the Gaol Registry is compatible with business intelligence software I used in school. This allowed me to present the data as an interactive infographic, giving Museum staff the ability to easily analyze information such as the crimes committed, residence, and religion of prisoners at the Gaol. In this way, staff can answer questions such as the makeup of crime from differing communities in Huron County in a matter of minutes rather than hours.
With so much information available, much of the information in the Gaol Registry did not make it into the new exhibit. For instance, the makeup of prisoner height is difficult to correlate into an overarching exhibit theme. In this blog, however, I can tell you that the most common height for male prisoners was 5' 8" with 13.6%, while 5' 6", 5' 7", and 5' 9" round out the top four and are each above 10% of the male prisoner population. For female prisoners, 5' 5" was the most common height with 17.7%, while 5' 2", 5' 4", and 5' 3" fill out the top four with each above 11% of the female prisoner population.
The crime demographics for places of residence is another interesting data set that did not make it into the exhibit. For Goderich-based prisoners, drunkenness was the most common crime with vagrancy second. Prisoners registered from Wingham most commonly committed larceny with vagrancy second. Prisoners from Seaforth most often came in for vagrancy, followed closely by assault and then drunkenness. Prisoners from Exeter most often committed larceny, followed by assault and then vagrancy.
Since Huron County was one of the last dry counties in Ontario, temperance, or the act of professing abstinence from alcohol, was commonly recorded by gaol staff. Some stories relating to temperance feature in the new exhibit, but it is possible to analyze this information further using business intelligence software. For instance, Clinton prisoners recorded one of the highest percentages of temperance. Almost 48% of prisoners from Clinton were temperate. We can analyze this data another step through gender. 85% of females from Clinton declared temperance. In comparison, Gaol staff recorded 34% of Goderich residents as temperate. 49% of female prisoners from Goderich were temperate. We can further interpret the Clinton dataset using religion. While almost 20% of all prisoners from Clinton were Methodist, 43% of temperate prisoners from Clinton were Methodist.
The last information I will share with you in this post is marital status. 54% of prisoners who came through the Gaol's long, narrowing hallway, were single, 40% of prisoners were married, and 6% were widowed. This information remains consistent within a few percentage points across residences like Goderich, Exeter, Lucknow, Seaforth, Wingham, and Clinton.
These are but a few facts outlined in the registry and staff continue to use these details as they research prisoners and their lives at the Gaol.
Want to learn more about the lives of prisoners from the Huron County Gaol? Come visit the new exhibit and speak with our staff about the Gaol Registry.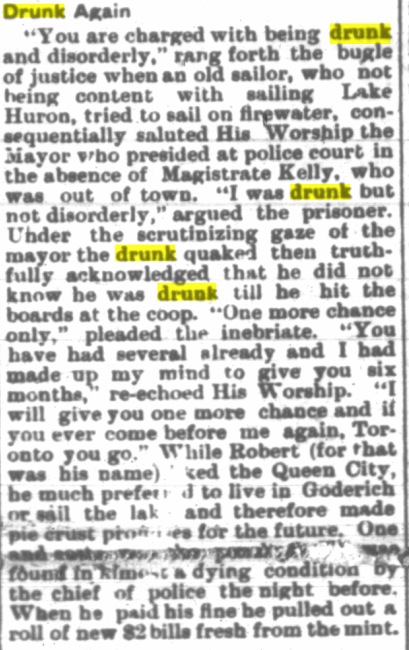 From the Huron Historic Newspaper collection. Published in The Signal, 1913-11-6, Page 6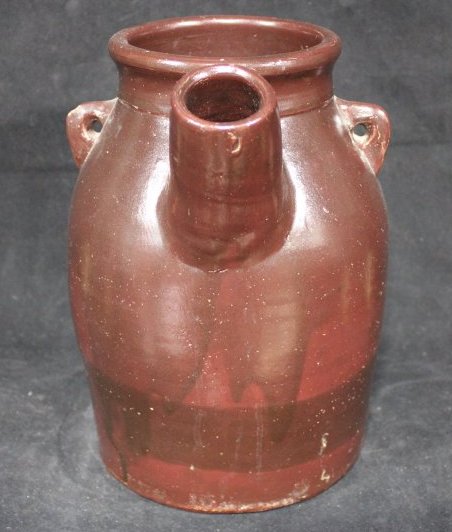 The owners of this whisky jug came by boat to Goderich then walked through the Queens Bush to homestead near Teeswater and Langside. The jug was carried slung over a stick on the back of a man when he walked through the Queens bush to barn and house raisings. The MacDougall's often went to raisings 50 miles away (Goderich) after clearing bush near Langside, Bruce County. Object ID: M9590109001