Brooklyn Wright, Huron County Museum assistant, is working on the Henderson Photographic Collection this summer and highlighting some of the stories and images from the collection. Gordon Henderson was a Goderich-based photographer who produced black-and white photos using a variety of mediums, such as negatives, glass-plate negatives, and cellulose nitrate film. The collection housed at the Huron County Museum and contains more than 10,000 negatives and photographs taken by Mr. Henderson from the 1930s – 1970s. Included in the collection are class pictures, summer camp pictures, wedding pictures, advertising campaigns, pictures of local events, buildings, businesses, and much more.
Have you ever gone bowling outdoors? The above image is part of the Henderson collection and shows a tournament held by the Goderich Lawn Bowling Club at the green on Picton Street. The Goderich Bowling Club, which was in full swing in this 1946 image, was active for well over 100 years before closing in 2014.
Lawn Bowling was a popular pastime in Huron County, and in addition to the Goderich club, both Clinton and Seaforth had lawn bowling clubs established before the turn of the 20th century. The Clinton Lawn Bowling Club, which opened in 1892, is celebrating its 130th year this season. Other towns were soon to follow suit, with Wingham gaining approval from the town council to start a club in 1901, and the Blyth Bowling Club leasing grounds on Dinsley Street to create a green in 1906.
The Goderich Lawn Bowling Club hosted several events throughout its history, including annual tournaments and special events like the Dominion Day Tournament hosted the same year this photo was taken. During World War One, the club passed a motion allowing free access to the greens for all returning soldiers. The usual annual rate at that time was $5.
For more information about the history of lawn bowling in Huron County, including specific dates, players, and results of tournaments, check out the Digitized Newspaper Collection!  
Sources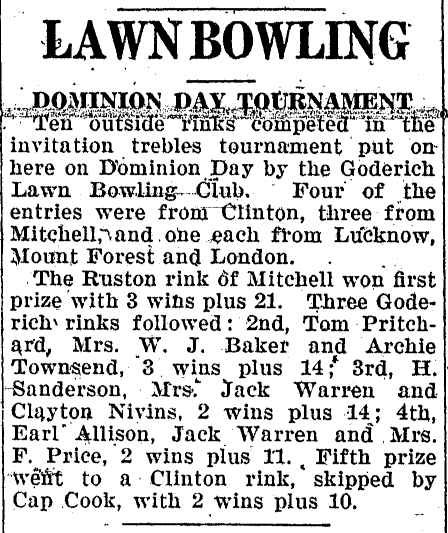 The Goderich Signal-Star, 1946-07-04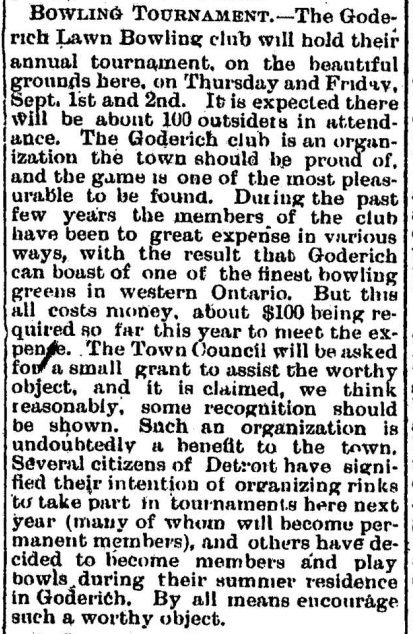 The Goderich Star, 1898-08-26

The Wingham Advance-Times, 1906-05-24